2020 CALENDAR OF WELLNESS RETREATS
To Register for an event click the button title to be redirected to more details and how to sign up.
​To book a private event, retreat, or workshop at Villa Gaia, Ubud, Bali - please go to our Rental page.
NOURISH.
AN 11 DAY JOURNEY INTO THE HEART OF BALI
BY COLE CHANCE

MARCH 7-17
Bali's magnetic qualities have drawn people here for centuries. There is a sacred atmosphere, devotional culture, energetically rich, ecologically and geographically diverse landscape, and warm, welcoming people.

This verdant island has been such a heart home for Cole Chance Yoga for the last several years. Here, she has learned a gentler way of being with herself + in the world, the important path of self-love + self-care, and a sense of home, a place she can anchor in to NOURISH.

"This is what I want to share with YOU. How we have the ability to reflect the abundance of a place into nurturing and nourishment towards ourselves. It will be a delicious adventure!

As I could find no possible way to show you the creme de la creme of this island in only 7 days, the journey will be a beautifully curated 11 days/10 nights. We will go between the jungles of Ubud and the beaches of the Bukit Peninsula immersing ourselves in healing practices, cultural experiences, and both self + community based explorations.

The Nourish Retreat is a beautiful way not only to see the world with like minded seekers, but to slow down, expand, and realign to yourself. You never know what you'll find when you make the space to do a bit of exploring!" - Cole

----
ABOUT COLE CHANCE
Cole has been a seeker all her life. It has brought her into the depths of addiction, to all corners of the world, and most importantly to the path of yoga. Through this practice, she has begun to understand, unravel, and explore the most fascinating of all landscapes….the inner one. There is always room to find more freedom and come closer to wholeness both on and off the mat; Cole's teaching style reflects her desire to support her students discover on their own unique journey.

Cole has been practicing and teaching Thai Yoga Massage for a decade, is a 500-RYT, international retreat leader, passionate about teaching to the addiction recovery community, consistent in broadening her knowledge in Yoga and Buddhist philosophy, ravenous book nerd, croissant connoisseur, wanderlust junkie, and seeker of the full range of experience. Her philosophy is to live wide, love big, look deep, and ALWAYS leave room for possibilities!

----
Some of the goodness to come:

Daily Yoga/Meditation (BEGINNER FRIENDLY!), Breathwork, Ecstatic + Balinese Dance, Cooking Class, Water Purification Ritual, Balinese Massage, Cacao Ceremony, Beaches, Rice Fields, Delicious Plant-Based Cuisine, plenty of time for Self-Reflection + Relaxation, as well as commUnity.


------
UBUD
The first 6 nights of our journey we will be nestled up to the beautifully landscaped rice fields at Ubud's much loved retreat center, Villa Gaia.

It is steeped in old world Balinese charm with a refreshing open-air plan of 8 bedrooms. There is a private garden, hot tub, infrared sauna, massage room, open air dining, and a saltwater infinity pool with panoramic views of the rice paddy fields.

Come. Relax. Explore. Connect.
NOURISH.


AWAKEN THE MAGIC RETREAT
BY KRISTEN YATES & JEN CANNON

MARCH 15-20, 2020
△ The Invitation △

Are you ready to break free from the mediocre and start living your unique purpose?

This retreat will energize and nourish your body, mind, and soul in a luscious soul tribe – empowering you with the tools and practices to design your life through radical alignment and quantum creation.

On our 6-day journey, you will unlock your potential to activate every area of your life - whether that's launching your business, manifesting your ideal partner, increasing your wealth, or finally falling in love with your body.

We'll explore yoga, meditation, creative and connective workshops, sacred ceremony, sound healing, eco-immersion and adventures through lush Bali –

Weaving together a deep exploration of consciousness, connection, and creativity to help you sink deeply into your truth and rise into your power.


△ The Magic △

Immersed in the lush surroundings of Ubud, Bali, we'll awaken the fire in our soul that co-creates with the universe, and release past conditioning and beliefs that have held us back from our full potential.

You'll enjoy nourishing meals, connective "play"shops, and adventurous excursions through this sacred land - along with plenty of time to explore Ubud and relax in the pool and sauna.

By the end of our journey, you'll emerge refreshed and clear, ignited with the energy and tools to create your life as you wish to see it – carrying with you a powerful sisterhood collective to continue supporting your path to growth.

Are you ready to awaken your magic?


△ We'll Explore: △

⋙ Embodiment through Yoga and Dance
⋙ Mindfulness and Transformational Breathwork
⋙ Sound Healing and Sacred Song
⋙ Creative Self-Expression
⋙ Tools for Quantum Creation
⋙ Self-Inquiry and Discovery
⋙ Authentic Relating and Conscious Connecting
⋙ Consciousness Expansion
⋙ Energy Dynamics
⋙ Tools for Balancing + Self-Healing
⋙ Eco-Immersion
⋙ Deep Connection to Self, Source, and Sisters


△ What's Included: △
≜ 6 days, 5 nights accommodation at the beautiful Villa Gaia
≜ Daily breakfast buffet, daily vegetarian lunch and dinner
≜ Daily workshops, embodiment, yoga, meditation and group sessions
≜ Sound healing and other *surprise* ceremony
≜ Unlimited supply of drinking water, herbal tea + Balinese coffee
≜ Private chlorine-free swimming pool, far infrared sauna, jacuzzi
≜ 60-min full-body Balinese massage (additional massages available)
≜ Airport pickup and dropoff (also available to and from hotel in Bali)
≜ All transportation to excursions and activities
≜ Healing excursion to Tirta Empul – the Balinese holy water temple
≜ Other surprise excursions around Bali
≜ Journal and other surprise gifts
≜ 30-min private healing session
≜ Private virtual community and post-retreat integration session
THE FIVE ELEMENTS RETREAT
BY NAIMA WOODSON
APRIL 14-18, 2020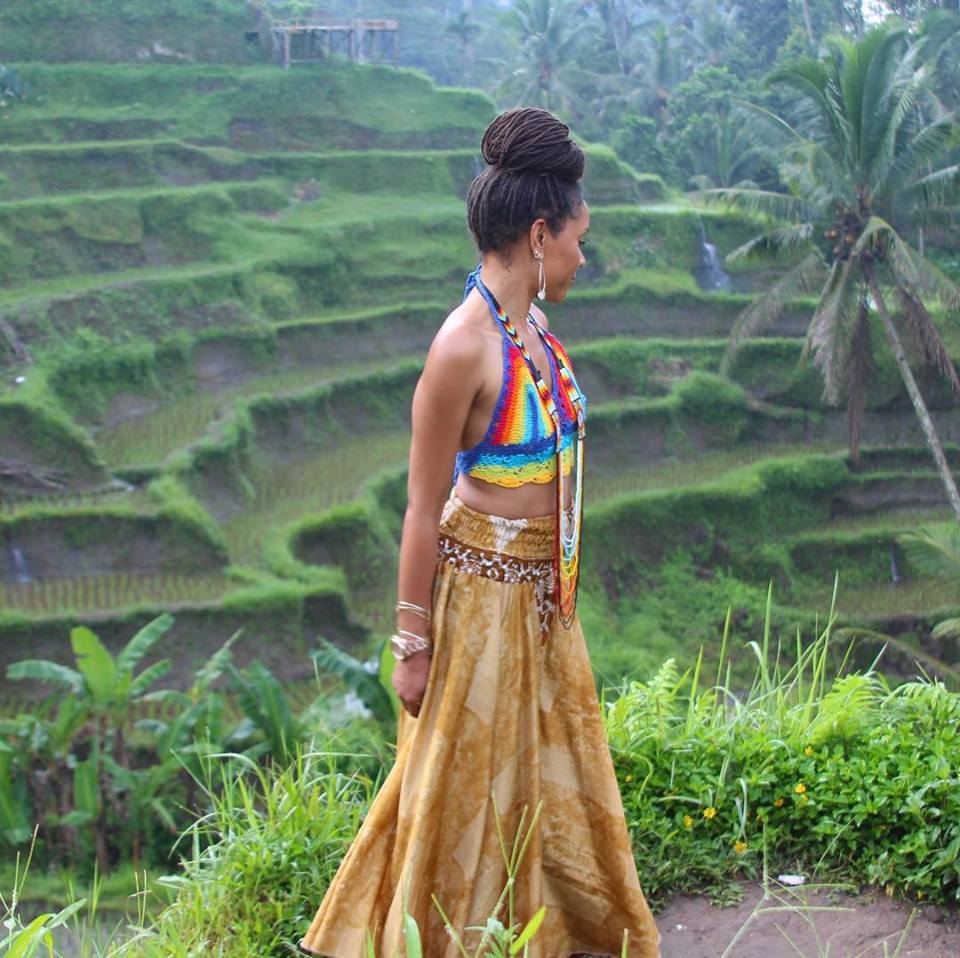 Sisterhood + Local Culture + Regional Cuisine + Relaxation + Fun
As with the five elements in nature, this retreat curated by Naima Woodson of www.beachbumwisdomco.com has been thoughtfully orchestrated with each element creating the other and working together to support a beautifully balanced vacation experience. Aside from Bali being one of the most high vibration, spiritually magnetic, lush, naturally and culturally beautiful places on earth, her love of the culture, food and spas inspired her to create a retreat where you can deeply nourish yourself, indulge, and have fun with kindred spirits.

You will see amazing sights, explore majestic temples, splash around in the sea, sip cocktails on white sandy beaches with stunning sunsets, eat fresh and organic regional cuisine, get massages and more! On this mainly all-inclusive journey, you will have some time on your own to explore the island. Spend a half-day at the spa for a relaxing Ayurvedic body treatment and fragrant flower blossom bath, wander through rice fields, shop the colorful markets, splash around in a waterfall, take a yoga class, visit the Monkey Forest, check out the night-life.After all, this is YOUR time to feed your mind, body and soul, as you wish.
--

WHAT IS INCLUDED:

Amazing villa accommodations at Villa Gaia in Ubud
Airport shuttle and ground transportation to and from all group excursions
Nourishing and indulgent breakfasts, lunches and dinners (with vegan, vegetarian and meat options)
Cultural Excursions & Classes
A luxurious Balinese Spa experience
View Naima Woodson's past retreat at Gaia Retreat Center by clicking - here

YOGA & MEDITATION RETREAT
BY LADAN SOLTANI


MAY 31-JUNE 7, 2020
Ladan is a yoga & meditation practitioner who facilitates her own classes, workshops, and retreats internationally. She trained with Sivananda Yoga in the Himalayas and Mysore style Ashtanga in San Francisco with Greenpath Yoga and has invested 30 years of her life in health, well-being and mindfulness. Ladan is a writer for Huffington Post (click here to read more), published author of "Fabulous Fitness at 40", and teacher for various Fitness TV Sky channels. She loves teaching yoga as it has allowed her to become aligned with her true sense of purpose in life. She lives by the Eastern philosophy that yoga is about self-realization.
Each morning, overlooking spectacular views of terraced rice-fields and palm trees, we will start with a yoga practice to establish and learn the basic fundamentals of the postures and refine them by going into more detail. The style and discipline taught will be a mixture of Ashtanga, Vinyasa & Hatha Yoga. Ladan will be giving plenty of adjustments and demonstrations, so you may feel more empowered within your practise. She will offer modifications when available for beginners, as well as options for more advanced poses. Everyone will receive personal attention.

During evenings, there will be guided meditation, yin yoga sessions, yoga nidra, breath-work and a core workshop to help build strength so your back and spine feels more stronger and supple. This will help you to gain more knowledge so you can practice with confidence on your own with inner peace.


_____________________________________________________________________
WHAT'S INCLUDED
- 7 nights accommodation - Morning yoga classes - Evening guided meditation/yin yoga/yoga nidra - 7 healthy delicious breakfasts - 2 nutritious 3 course evening meals at Villa Gaia - Welcome meal on arrival - 2 Excursions to historical temples and a waterfall - Workshop for back care - Balinese massage - Airport Pick up and drop off - Unlimited Tea, coffee, water - Use of Jacuzzi and infrared sauna - Options for sound healing classes
THE QUEEN OF CONFIDENCE WOMEN'S RETREAT
BY ERIKA AND HAMISH CRAMER


JUNE 19-24, 2020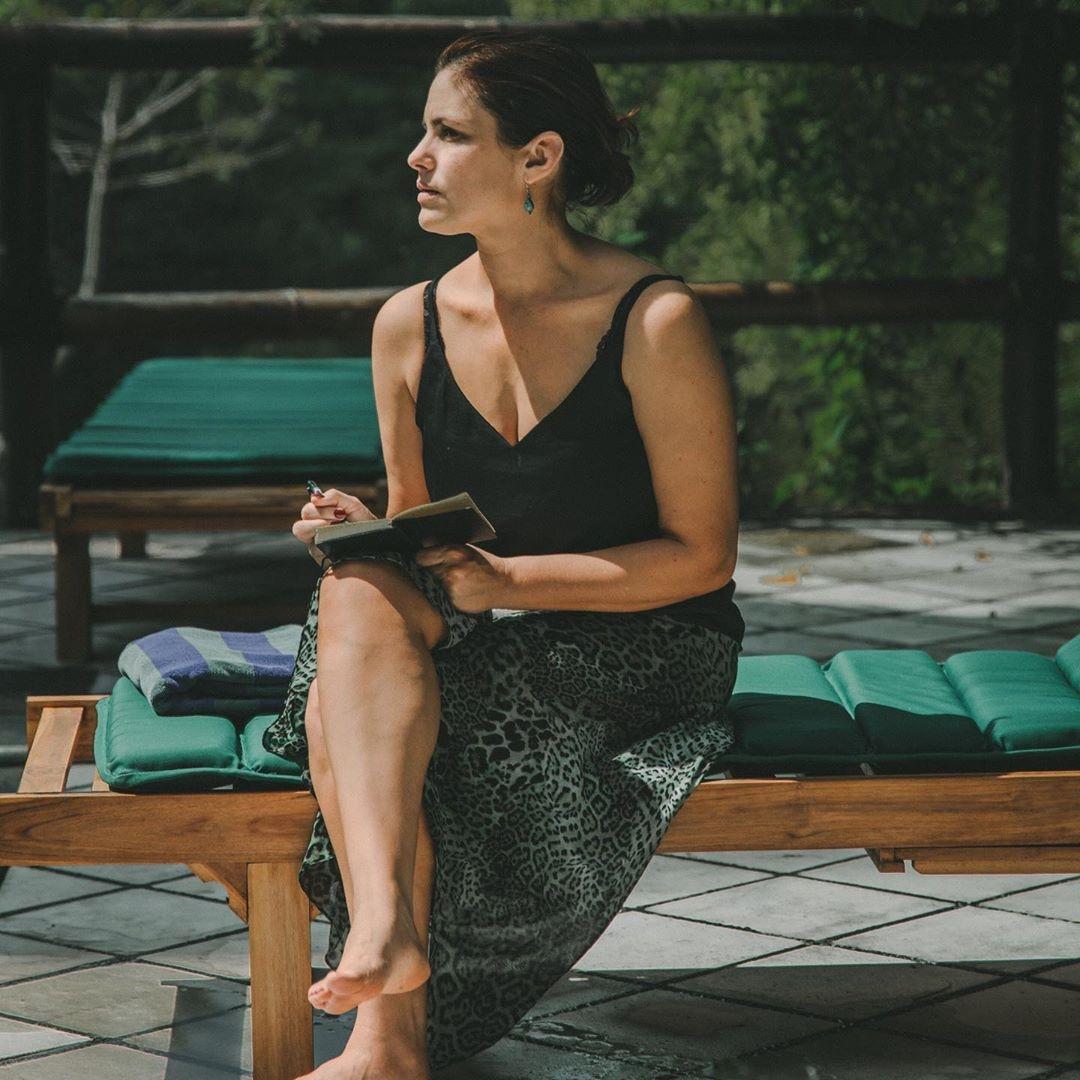 THE QUEEN OF CONFIDENCE WOMEN'S RETREAT BY ERIKA & HAMISH CRAMER | JUNE 19-24, 2020
Erika Cramer, the founder of
The Queen of Confidence
who is taking a bold stand for women to reclaim their self confidence, returns to Gaia Retreat Center with her beloved husband Hamish Cramer of
Manfulness
who both co-create and bring a deep level of holistic experience, meditation and personal fitness training designed to inspire the Mind, Body and Spirit connection.
Erika and Hamish encourage women to end people pleasing, self judgment, comparison and to let go of caring so much what other people think of us.
This highly anticipated co-facilitated 6 day retreat for women will be based on working with the mind, thoughts, feelings, beliefs and behaviours via modalities of coaching, mindfulness, cognitive behaviour therapy, shamanic healing, movement, meditation & neuroscience to inspire action, change, connection and deep compassion and acceptance of self and others.
Here you will be safely guided and lead in order to push past comfort and into the rebirth of you are really meant to be. This retreat will leave you feeling, energised, rejuvenated, clear minded, expanded and ready to experience yourself on a whole new level.
_____________________________________________________________________
Click

HERE

to view their 2019 retreat at Villa Gaia

_____________________________________________________________________


MEET ERIKA CRAMER


Erika speaks regularly to groups of women and mothers on the topic of Self confidence, Self-love and vulnerability. She facilitates Confidence masterclasses in Melbourne whilst running her coaching business where she coaches women both privately and in groups settings. Erika keeps it raw, real and entertaining whilst inspiring women everywhere to be who they are and stand in their fully expressed selves. Joining her is husband Hamish Cramer, founder of Manfulness who brings a deep level of holistic experience, meditation and personal fitness training designed to inspire the Mind, Body and Spirit connection.



_____________________________________________________________________
WHAT'S INCLUDED
All transportation including pick-up and drop-off to the airport as well as local transportation to all our retreat run excursions in Ubud
5 nights / 6 days accommodation at our gorgeous retreat centre in Ubud, Bali
All Meals (unless we go out for group dinner) Breakfast, lunch, dinner, Unlimited filtered water and herbal tea. Your choice of Organic, plant-based, protein animal based, vegan, vegetarian or primarily raw meals designed to nourish your body
Daily Mindset sessions for expansion and empowering transformation
Morning and night meditation sessions
Access to salt water infinity pool, hot tub, infrared sauna, 4 bikes, library, yoga mats and props
Nightly groups circles
2 x One on one Video call Before and after the retreat to connect, support and nurture you through your experience.
Free time to relax, read, explore and heal
Personalised welcome gift
Complimentary natural products during your stay
Discounted spa treatments (massage, colonic, facial, reflexology etc.)
Complimentary wifi
Professional and personal support to assist you in anything you need emotionally and physically through out your stay
1 on 1 holistic mind, body spirit session with Erika and Hamish Group activities for connection, spirituality, growth and manifestation
Morning rice terrace walks
Water purification experience at Tampak Siring Holy Water Temple
Explore the Historical Temples & Meditation Chambers of Gunung Kawi
BREATH OF PERSPECTIVE RETREAT
BY MICHELLE CHUA


JUNE 26-JULY 5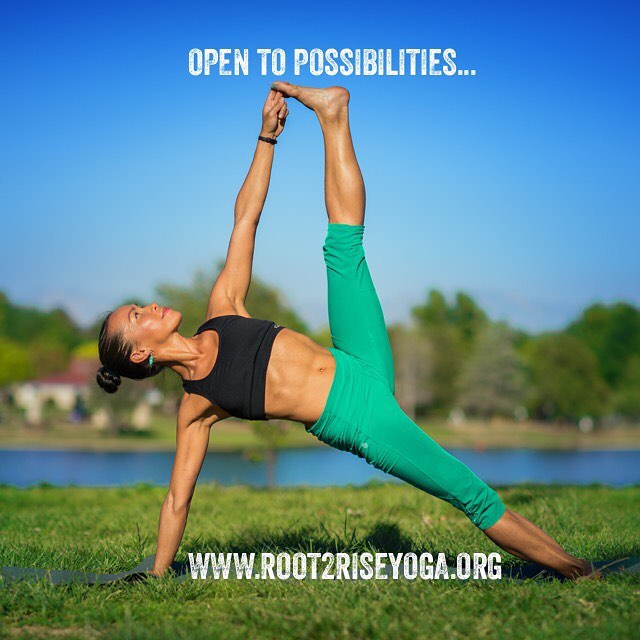 What Does this Unique Curated Yoga Adventure by Michelle Chua Entail?
Nurture your adventurous global spirit journeying through Bali, Indonesia through the insightful lens of yoga. For 7 or 10 days, immerse in local life at three destinations: art and wellness town of Ubud at Gaia Retreat Center, followed by your next destination in traditional rural village in Tabanan and finally, peaceful beach town of Sanur. Practice daily yoga with Michelle Chua overlooking verdant rice fields and vast ocean, and enjoy a taste of ancient Balinese yoga with a local instructor. Spend your free time hiking to stunning waterfalls, strolling on the beach or savoring Balinese artistic expressions of love: exquisite cuisine, rejuvenating bodywork, entrancing traditional music and dance, mesmerizing sculptures and architecture and devotional offerings. Joined by like-minded travelers, play in infinite possibility and expand your perspective of the world and Self.
Upon arrival at Ngurah Rai International Airport in Denpasar, you will land in Gaia Retreat Center - a peaceful sanctuary overlooking terracing rice fields and swaying palm trees. Unwind with an hour Balinese massage before dinner with your fellow travelers and relaxing evening yoga. The villa property includes a sauna, jacuzzi, chlorine-free swimming pool, yoga shala and open-air dining surrounded by lush nature. Only 15 minutes leisurely stroll to Ubud's town center, enjoy your free time visiting the art market, temples, vast array of restaurants, Sacred Monkey Forest, Ubud Palace and spa and wellness centers. Invigorate your senses with the cultural vibrancy of Ubud, and rest in the serenity of our retreat grounds.
Drawn to yoga to rehabilitate from a dance injury, Root 2 Rise Yoga founder, Michelle Chua witnessed its power to align body and mind with the unconditional love that lies within, eliciting benefits beyond physical healing. During 15 months of volunteer teaching in Ghana, West Africa and later in Costa Rica, Michelle developed a regular yoga practice and realized that in its various forms, yoga can empower a joyful vibrant life when applied with integrity and consistency. Upon her return to the USA in 2010, she graduated yoga teacher training and transitioned from schoolteacher to a life path sharing yoga with diverse communities and evolving in her own practice, since attending her first yoga class in 2001.

Michelle's teaching style nurtures a clear understanding of physical alignment paired with conscious breath to facilitate focus and compassionate meditation for all levels of practice. She invites insight on ways to integrate yogic tools in daily living for inner peace and wellness and provides space for self-inquiry and personalizing asana (physical) practice within a large group. She enjoys her free time dancing, running or hiking in nature or savoring a meal at one of her favorite plant-based restaurants.

What's Included in Your Retreat Investment?
7 or 10 days single or shared accommodation: Gaia Retreat Center in Ubud, eco-friendly cultural retreat center in Tabanan's traditional village and local-family run resort hotel in Sanur beach town
Airport pick-up and drop-off to and from our retreat accommodation on the first and last day of the retreat
Healthy and delicious daily group meals (Dinner on Day 1 through breakfast on last day) at retreat center and local restaurants, excluding 4 meals to explore nearby restaurants on your free time
Daily morning Vinyasa/Hatha or evening Restorative/Yin asana and meditation with Michelle Chua in Ubud and Sanur
Daily traditional Balinese yoga and meditation with Balinese teacher in Tabanan
Cultural discovery activities: Balinese water purification ceremony, flower offering workshop, visit to local orphanage, traditional music and dance show, temple visit and more
Nature excursions: day trip to Sekumpal Waterfalls, Campuhan Ridge stroll, visit to hot springs resort, hike to local waterfall, yoga on the beach and boat trip to *Nusa Penida to explore pristine beaches (*for 10-day stay only)
4-6 Guided mindfulness practices for reframing perspective: eating, walking, meditation, group conversation and reflection activity
One-on-one 15-minute personal yoga consultation with Michelle Chua
1 hour Balinese massage upon arrival
Additional Balinese massage and spa treatment prior to your return home
GRAND ESCAPE RETREAT
BY MARNIE CATE & KIRSTY ROBINSON


JULY 6-10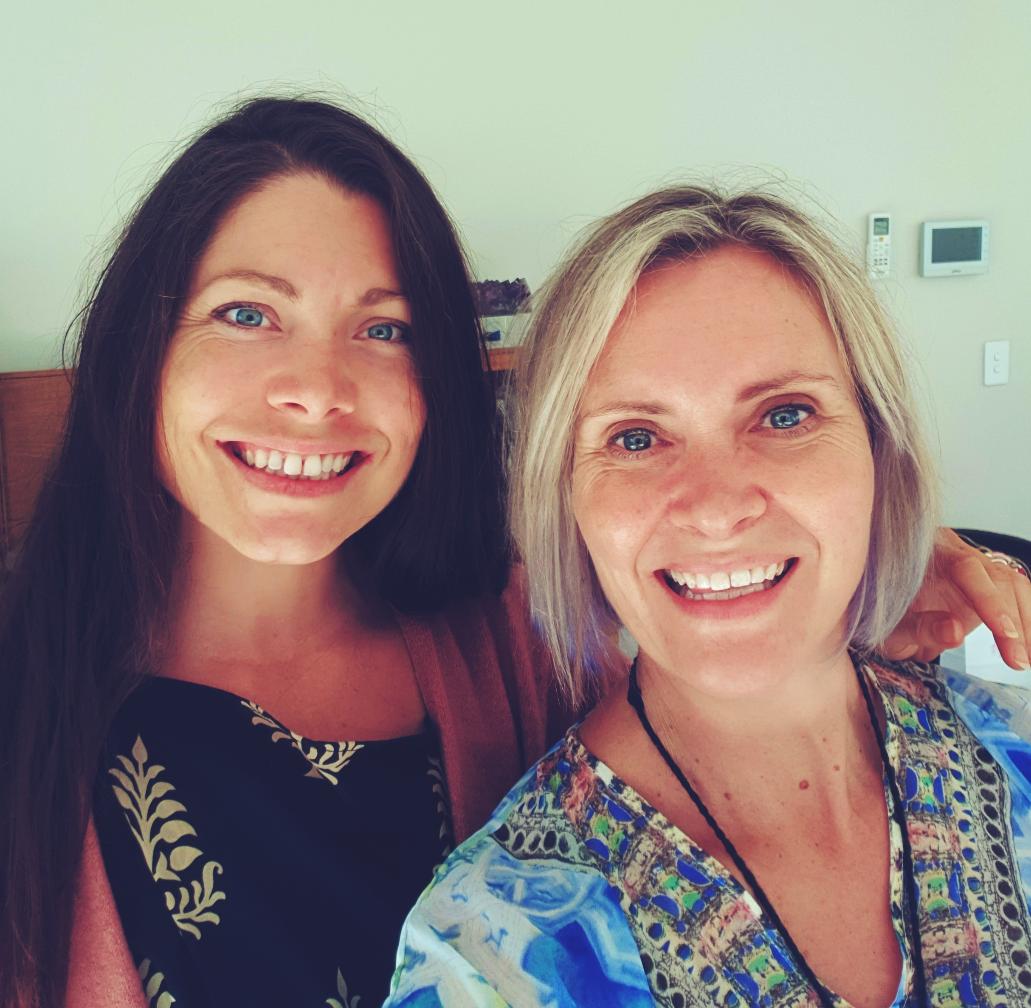 Ladies, have you been promising yourself that you'll take time out from your busy life and treat yourself to a luxurious getaway? Now here's your chance!
Explore an exclusive opportunity for you to escape the grind and indulge in delights for your mind, body and spirit. Daily yoga sessions, meditation, journaling, swimming, sauna, nutritious food and Balinese culture are just a few of the things you'll enjoy in this Grand Escape by Marnie and Kristy. Imagine waking every day and not having to worry about work, or responsibilities that are tying you down and enjoy the simplicity of each moment. To realise the freedom for your mind, your body and your spirit!

MEET MARNIE CATE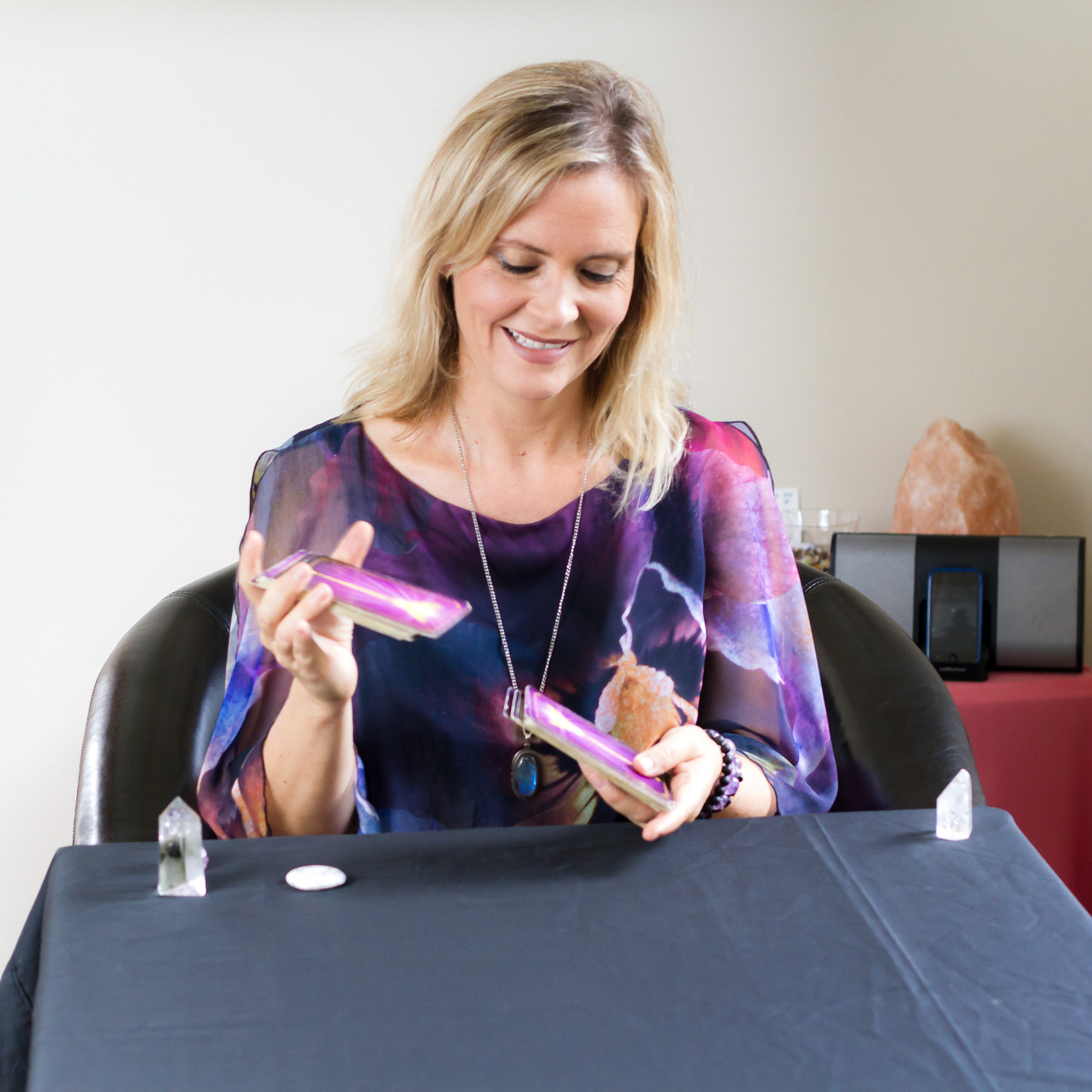 Marnie Cate is a clairvoyant and spiritual teacher with a passion for healing on a physical, mental, emotional and spiritual level. Having been born with the gifts of sight and empathy, she regularly received premonitions and visits from Spirit throughout her early childhood.
It wasn't until the birth of her first son that her gifts really stepped up to a new level, and as the Universe encouraged, people began to find Marnie to seek out guidance and connection with Spirit. Throughout her nearly 20-year journey on this path, her passion is to share that we all can connect in our own gifts and find faith in ourselves. Learning simplicity in meditation, contact with your Guides and sensing other dimensions can enrich your life. Whether it be a reading, a healing or a workshop with Marnie, you will walk away knowing a deeper level of yourself.


MEET KRISTY ROBINSON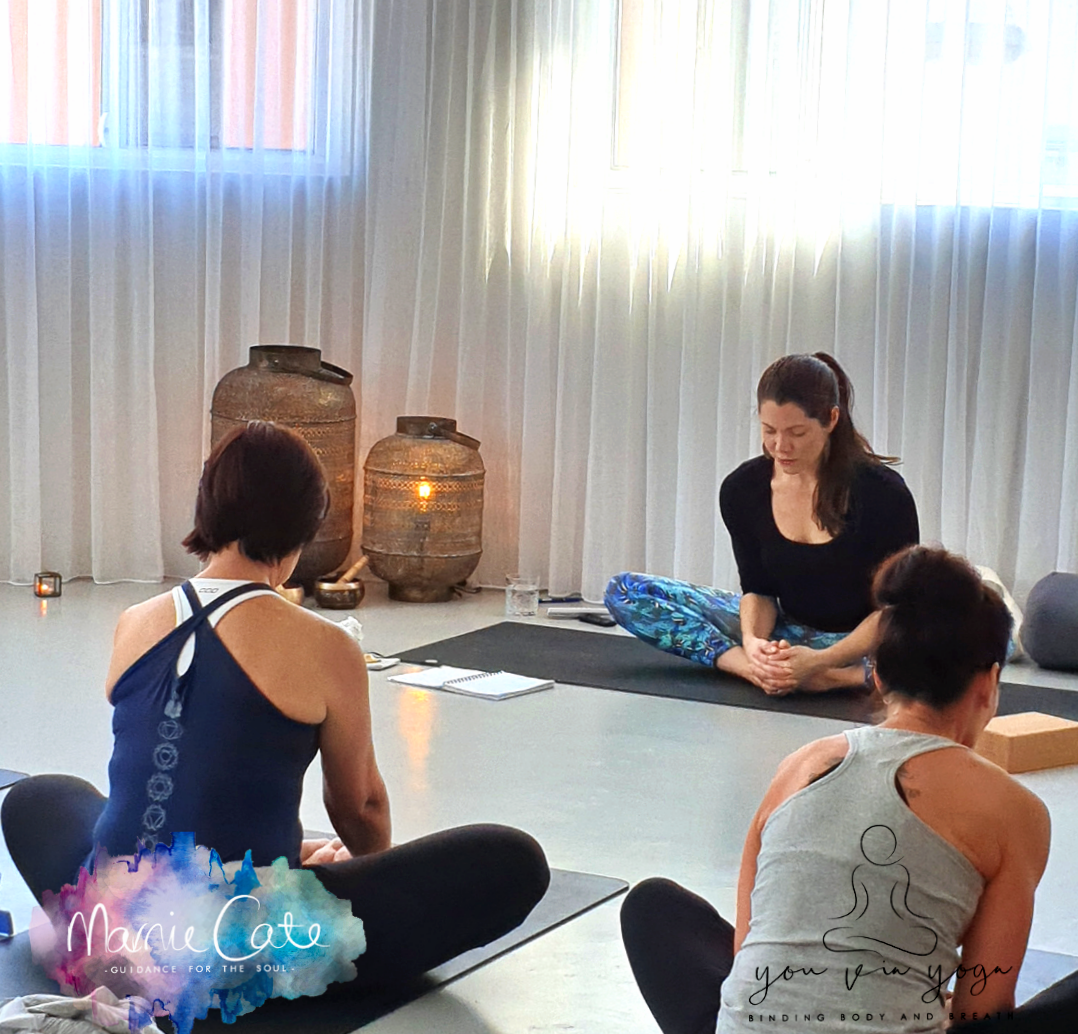 Meet Kristy, a resident teacher at You Via Yoga studio based in Mandurah WA, who has been practicing yoga for approximately 16 years and studied at Himalaya Yoga Valley, under the Ashtanga Lineage taught by Yogacharya Lalit Kumar, in 2017. Kirsty teaches mindful yoga classes in the traditional Ashtanga Yoga Asana discipline, intertwined with Vinyasa flow, meditation, Pranayama and other aspects of Ashtanga Yoga.
---
WHAT IS INCLUDED:
Accommodation for 5 days / 4nights
Daily breakfast, 2 lunches and 1 dinner
Daily service of your room, 24 hour security and free wifi
Unlimited supply of clean drinking water, herbal tea and Balinese coffee
Swimming pool, far infra red sauna, soft hot tub jacuzzi
Complimentary transfers upon arrival at Denpasar airport to Ubud resort and departure from resort to Denpasar airport
Complimentary transfer to Ubud town centre (must be booked in a group format on the day)
Tirta Empul Holy Water Spring Cleanse excursion (sarong provided for visit)
Tegenungan Waterfall excursion
Daily yoga class with Kristy from You Via Yoga (morning and afternoon or evening)
Meditation and Spiritual workshops with Marnie Cate
Free time to rest, swim, hike and explore Ubud (to name a few!)
Gift bag of goodies
HIGH ON CHI RETREAT
BY TRENT BANYAN

JULY 14-19, 2020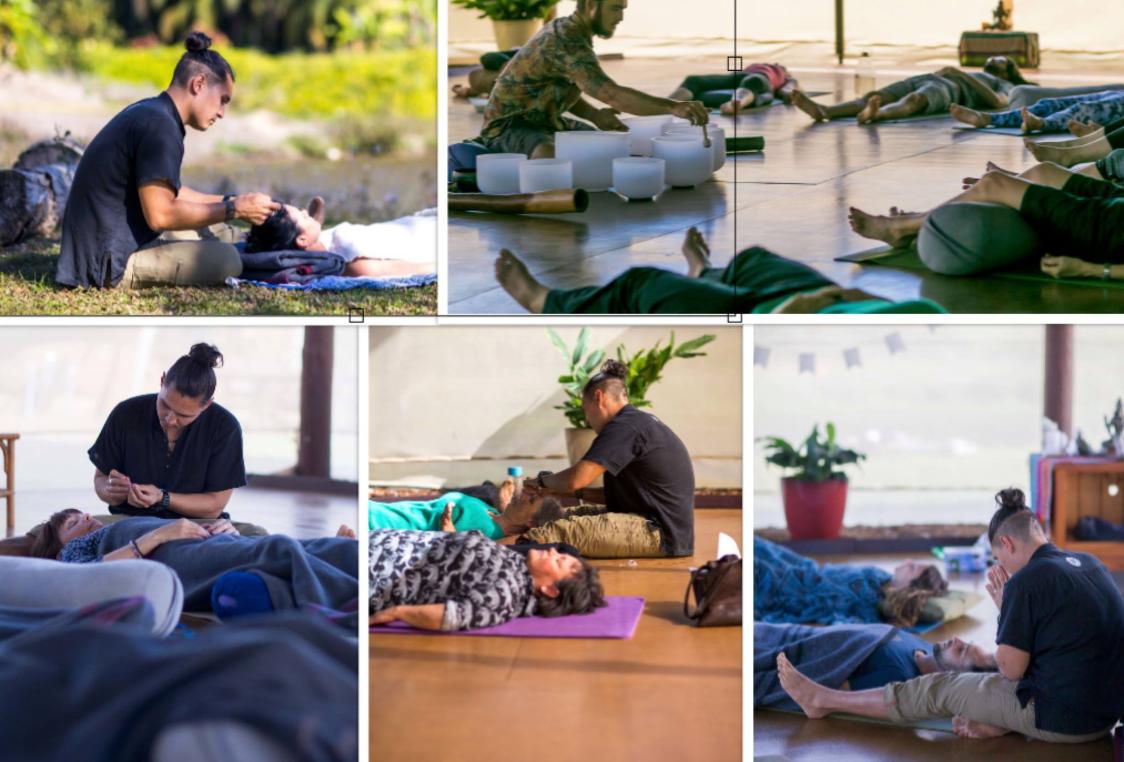 Are you in need of a boost in energy - to feel more motivated, alive, connected with purpose?
In this 6 day immersion created by Trent Banyan - founder of High on Chi - you will learn how to identify key areas of life, to cultivate and harness your energy by working through the Pillars of Chi Flow. You will learn and practice powerful skills to help micro-dose daily on chi and provide your body with a hit of energy when stagnation and lethargy kicks in.


What is 'Chi'?
Chi (also spelt 'qi' or 'ki') is known in some traditions as prana, kundalini power, spirit, life force or simply energy. Its concept is derived directly from Taoist philosophy. Chi has also been translated as 'air' and 'breath' and figuratively as 'material energy' so it means life force or energy flow. It is the vital force and transformational power of energy that binds all objects and activities in nature into one organic system of form and function.
High on Chi uses the 8 Pillars of Chi Flow as a blueprint to identify areas of one's life where they are wasting/leaking their chi and how they can improve it. When you are high on chi you are in the flow of life, you feel incredible and your beliefs, perceptions and mental state feels more balanced.
What's Included?
Pillars of Chi Flow
Learn how sleep, nutrition, chi-cycle living, your environment, therapeutic exercise, meditation, self-care practices and having a sense of purpose and meaning affects your chi levels. We will greatly enhance these areas of your life and your overall chi levels through various talks, discussions and applying practices.
Daily Morning Practice
Each morning will begin at sunrise with sun-gazing and meditation followed by various chi practices inspired by qi gong and yoga. We will begin the day mindfully and prepare ourselves for the day ahead. Take away a morning ritual practice that will support your overall chi levels.
Group Healing Sessions
Most days there are some form of Group Esoteric Acupuncture or a visit to The Pyramids of Chi, for an Ancient Sound Healing. There is also the opportunity to have additional massages at Villa Gaia.
Nature Hikes
There will be an early morning wake up to summit a sacred mountain and a sunset walk through beautiful rice fields.
Healthy Meals - All included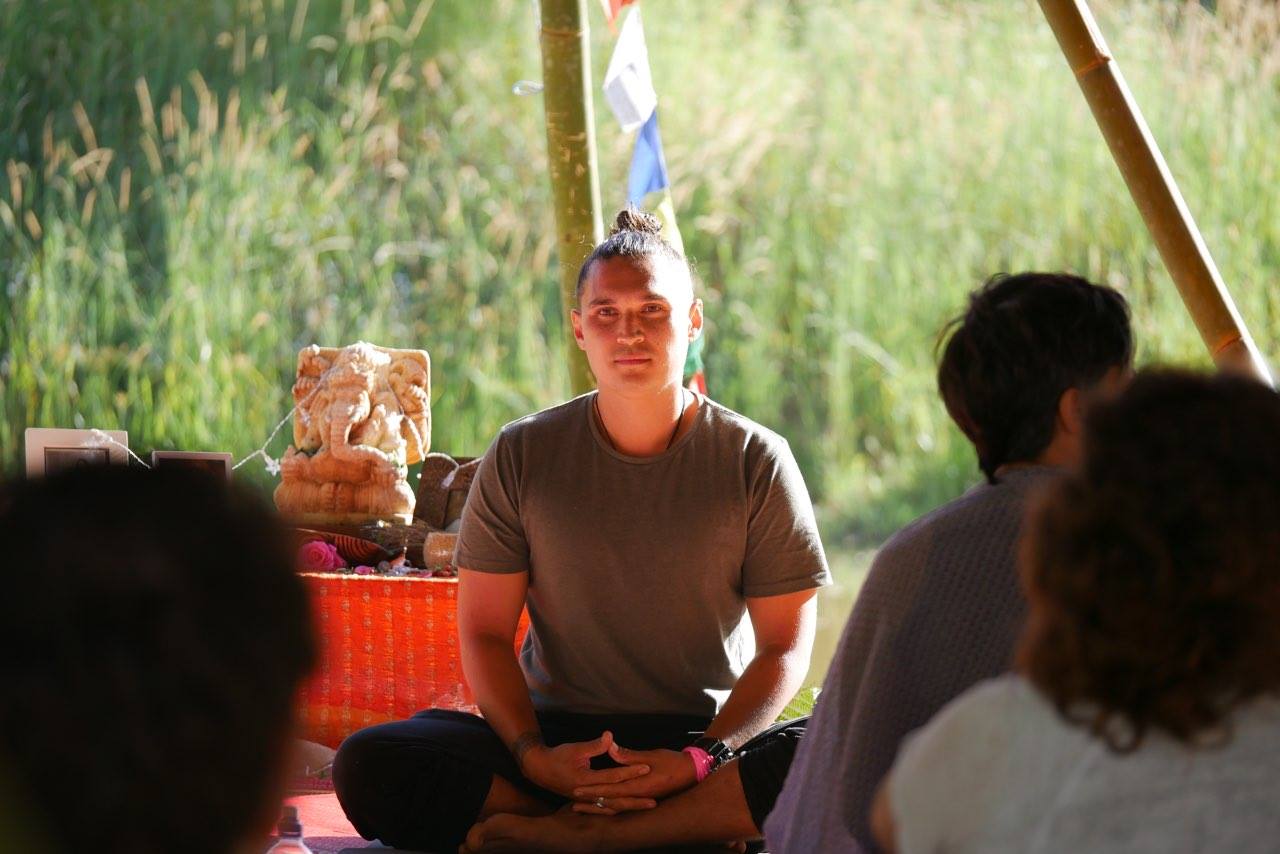 ABOUT TRENT BANYAN
Hi, I am the Creator and Director of High on Chi and live in the Noosa Hinterland on an organic farm in a tiny home with my wife and young daughter. I am a fully registered Acupuncturist and Chinese Medicine Practitioner and have been in private practice since the beginning of 2015. Since that time, I have worked with Noosa Confidential a sort after private rehabilitation program as an Acupuncturist, Yoga Therapist and Mindfulness Trail Facilitator. I was also the Program Leader of Dream Catcher Rehab, a program that ran Jost Sauer's Recovery System.
I travelled extensively throughout my 20s and left a very well-paid job in construction in pursuit of creating the life I desired. In 2010, I found my calling to begin studying Traditional Chinese Medicine during my time in a 1-month meditation course in Guatemala. It was a pivotal turning point in my life. I moved from a life of material abundance, alcohol, drugs and partying to a holistic lifestyle filled with yoga and meditation practices. I found and connected into the power of chi (energy) and observed how it moves through everything. The 'chi' highs and reaching altered states naturally, is one of the main reasons why I have not turned back to old patterns.
Now, when I am not climbing mountains, I am providing Chi Flow Consultations and Esoteric Acupuncture from my High on Chi clinic space on the Sunshine Coast in Australia as well as online via zoom. I also facilitate various events and mentoring programs as well as on transformational retreats.
EMBRACE. RISE ANEW. THE PHOENIX WOMEN'SRETREAT
BY KENDRA DAVIES

AUGUST 5-12, 2020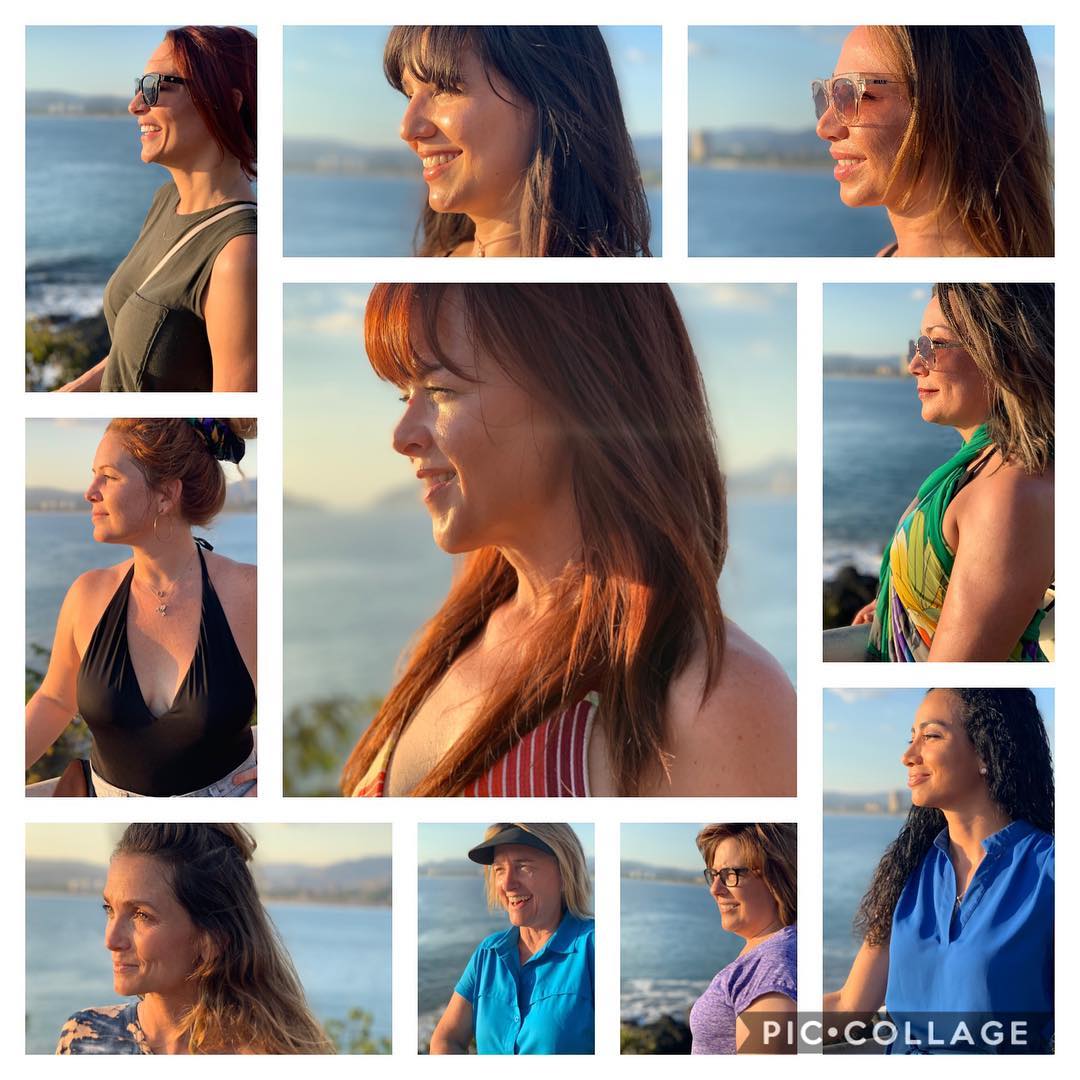 The Phoenix Retreat by Kendra Davies is a luxurious, transformational, and all-inclusive retreat for women. The Retreat is named after the mythical bird that sets itself aflame, then rises anew from the ashes. This is a healing retreat to find yourself, or rather, to Rise Anew! You will learn how to drop the armor, shed the old skin, and live a more joy-FULL and authentic life.
We will dive deep down and do the necessary work to free ourselves from the limiting beliefs that lead us to this spot in life – uncovering our purpose and redefining what we want our lives to be.
Once you see who you are and learn to identify define and cultivate your own purpose – you will naturally give up shame and guilt, you will embrace forgiveness, and love yourself flaws and all.
You will learn Radical self-acceptance which comes when we are willing to see ourselves exactly as we are, right where we are – and accept all of it.
The greatest gift most women take with them from the retreat are the connections they make with other women. You will get to take that same love, support, and accountability home with you. Kendra is committed to empowering her clients to live their best most authentic lives. She started Stellar Life Coaching in 2013 with the mission to transform how we live love and do business using the powerful science of Positive Psychology. She is an accomplished speaker, and her professional contributions have been published on Monster.com, NYDailyNews.com, Redbookmag.com, Sparkpeople.com, and Bustle.com
What is Included?
Transportation to and from the airport, all of your accommodations, all food/beverage, 24/7 concierge service, daily yoga and meditation practices, hike to the waterfalls in the jungle and sound bath in an ancient temple. More than that we will meditate in the rice fields, and do our deepest work. The souls work comes alive in Bali with ancient traditions and sacred grounds – we will shed that old skin, the armor, and the beliefs that no longer serve us and RISE anew.
SHIVAKALI YOGA PRESENTS
"ELEMENTAL TANTRA"
300-HOUR YOGA TEACHER TRAINING

Advanced Vinyasa Yoga Teacher Training, Based in India's Sacred Traditions.
SEPTEMBER 30 - OCTOBER 28, 2020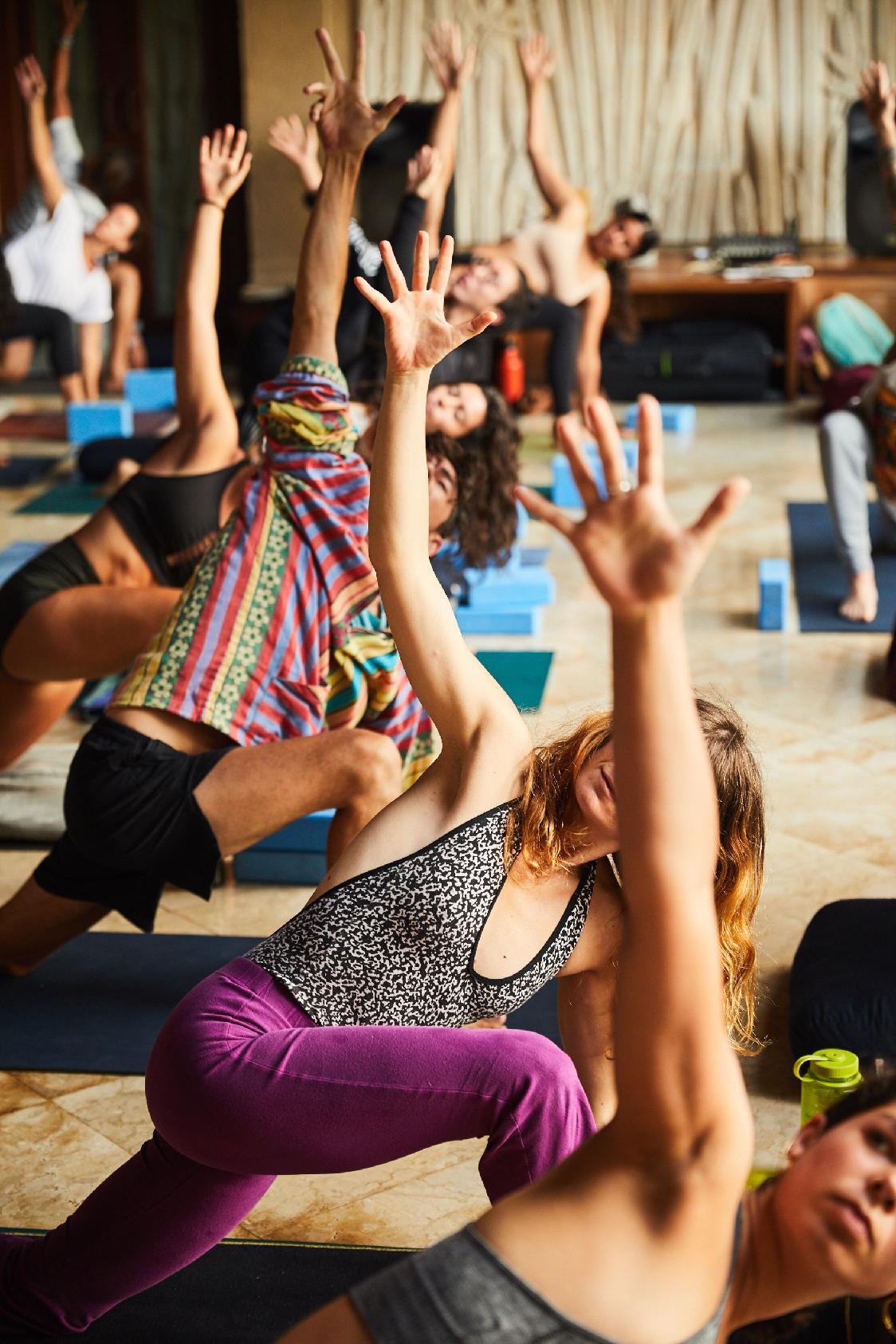 ***
WHAT STYLE IS SHIVAKALI YOGA?
We teach an Alignment-Based Vinyasa Flow practice. Culminating in restorative postures, meditation and pranayama, our practice serves first to awaken the body and break-up stuck energy, and then to soften the mind and nurture our inner being. Uniting the masculine + feminine aspects of practice we find freedom in movement, draw awareness from the mind to the heart, and allow insight to arise naturally.
Learn how to lead this practice at our 300 Hour Yoga Teacher training, Bali.
COURSE OF RETREAT
The Shivakali Yoga "Elemental Tantra Yoga Teacher Training" approaches the ancient sciences of yoga and tantra through a course of the 5 elements. This 300 Hour Yoga Teacher Training is the first of it's kind. In the earth element we will practice Din Acharya, daily ayurvedic self-care as we rise with the sun. We will learn about grounding asana practice, restorative, yin and classical tantric asanas. Guided massage practices will be offered, and connection to the earth as found in classical yogic texts + other traditions.
During the water element, we still the waters of the mind with Buddhist yogas and meditation instruction from the Nyingma tradition. Enjoy daily practice of vinyasa flow, with an emphasis on the lunar quality and classical surya namaskar, deepening our knowledge of these asanas. And we will expand our practices of inversions learning how to float through our daily asana classes and posture clinics with grace.
As we proceed into fire, we will begin the day at sunrise with Agni Hotra, classical yogic fire ceremony. We will learn to perform yogic fire rituals, study the bandhas and kumbhaka practices of yoga, and cultivate inner heat. Our yoga will focus on strength and core, learning the art of power vinyasa sequencing and core work in a way that is aligned with classical yogic principles, while strengthening our practice of arm balances as well.
Journeying into the air element, we will rise with the practices of Sri Vidya, ascending into Shakta Tantra. Students receive instruction for our daily practice of the Kalavahana, a tantric empowerment ritual. Further, we will learn to draw the Sri Yantra, learn about the deities contained inside this ancient diagram, and study the history of this Goddess tantra tradition. We will master the art of intuitive teaching, learning how to teach/practice yoga from a place of inspiration, and incorporate other forms of sacred movement into our classes.
Woven throughout the course is the element of space, during which time we will look encounter the poetry of Kabir, meditate on emptiness, and read from the Tao Te Ching. We will find what it means to discover our own practice, our own path, and our own truth within... as teachers, and as human beings.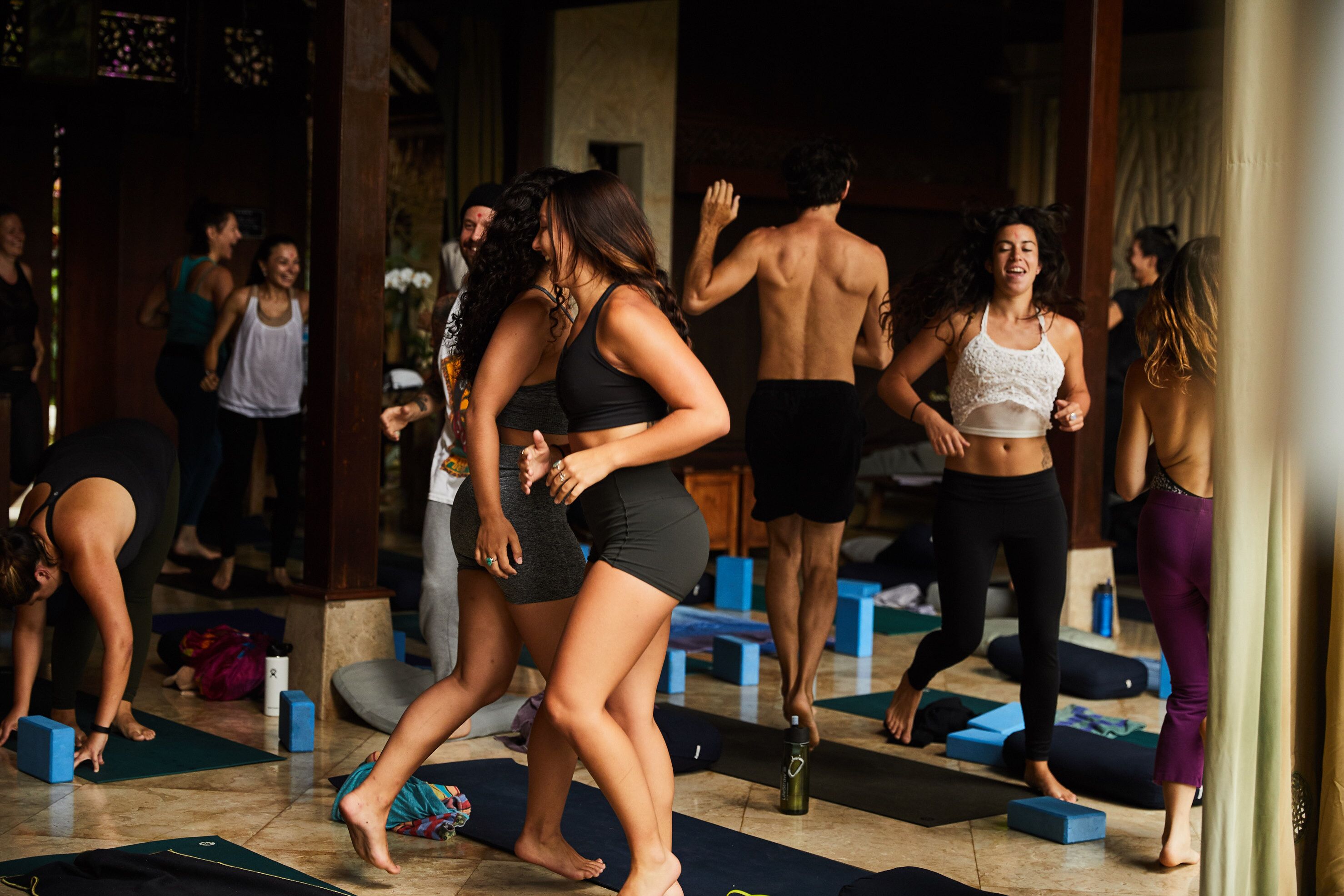 INSTRUCTORS:
SERGE BANDURA
Serge Bandura (E-RYT 500) has been practicing the Yogic arts of India & Tibet since his youth, and teaching Yoga since 2001. His approach evolves out of a deep transmission from younger years living in Kula (yogic community), engaging in lengthy daily practice before the hours of dawn, and undergoing rigorous study with his teachers. In classes, Serge blends his knowledge of traditional Yogic practice & philosophy with 1000's of hours of training in Ashtanga, Yin Yoga, Rudra Yoga, Vinyasa, Kundalini, Ayurveda and Tibetan Buddhism. He holds a BA in Religious Studies with an emphasis on South-Asian traditions, a certificate in Yoga Philosophy, a diploma in the study of Yoga & Ayurveda, an E-RYT designation from the Yoga Alliance, he reads/writes Sanskrit, and is currently enrolled in a Ngakpa (Tibetan Yoga) Seminary program.
GLORIA BARAQUIO
Gloria Marie Baraquio(E-RYT 500) is a yogi and educator from Hawaii, who resides at Ratna Ling Buddhist Retreat Center in Northern California. She grew up the youngest of 10 children on the island of Oahu, praying and singing in the Catholic Church. Intrigued with other spiritual traditions from a young age, Gloria explored a multitude of philosophies and religions, connecting deeply with the teachings of Baha'i, Tibetan Buddhism, Kundalini Yoga, and Krishna Consciousness. She has practiced at temples, ashrams, churches, and healing centers around the world, and lived off-grid in the Hawaiian Jungle to experience simple living and high thinking.
Gloria practices and shares Agni Hotra, Vedic fire ceremony, teaches Kirtan and harmonium chanting, leads retreats and teacher trainings globally, and shares her love of Bhakti Yoga through body, breath and voice.
PRANATHI REDDY
Growing up in a traditional South Indian household, Pranathi has been exposed to the ancient Vedic practices of mantra, meditation and yoga since the age of 5. She started following her mother's lineage when she was 16, when she was initiated into the matriarchal shakta tantra teachings of Sri Vidya through her first teacher, Sri Amritananda Natha Saraswati of Devipuram.
Pranathi will be teaching the Kalavahana, a tantric empowerment ritual, which removes bodily afflictions and transforms mental, social and spiritual force. Kalavahana invokes cosmic energy to activate and balance the power centers contained within each petal of each lotus on the seven chakras of our own body. Pranathi will further be sharing teachings on the Sri Yantra, the meanings of the interlocking triangles and presiding deities, as well as instructions on how to draw our own yantras. Sri Yantra is a tool that gives a vision of total existence, aiding us to rediscover our primordial source and work towards ultimate union with the cosmos.

"Let yourself be silently drawn, by the strange pull of what you really love."
THIS COURSE IS FULLY ACCREDITED BY THE YOGA ALLIANCE.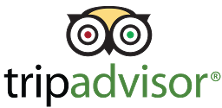 Copyright© Gaia Retreat Center