​LOOKING TO BRING A RETREAT OVER TO BALI?
We love hosting events and helping you design a sacred space to learn and grow.
We also know that the more comfortable you are hosting your training or ​retreat with everything behind the scenes been taken care of, the more relaxed and receptive your own participants will be.
Some of the events hosted in the past ...
Nourish You Singing Retreat by Betsy Hanson
Clayton Horton's Ashtanga Retreat
Embracing Health Raw Food Retreat by Leisa
Breathwork Workshop by Andrea
Kundalini Mantra by Harmony Halberg Polo
Shiny Happy Healthy Yoga Retreat by Megan
Insight in Bali Retreat by Michal Pasterski
of Life Architect
Ashtanga & Jivamukti Retreat by Dina Ghandour & Michelle Alistoun
"EVERY MORNING WE ARE BORN AGAIN. WHAT WE DO TODAY IS WHAT MATTERS MOST." Buddha



THE VENUE - GAIA RETREAT CENTER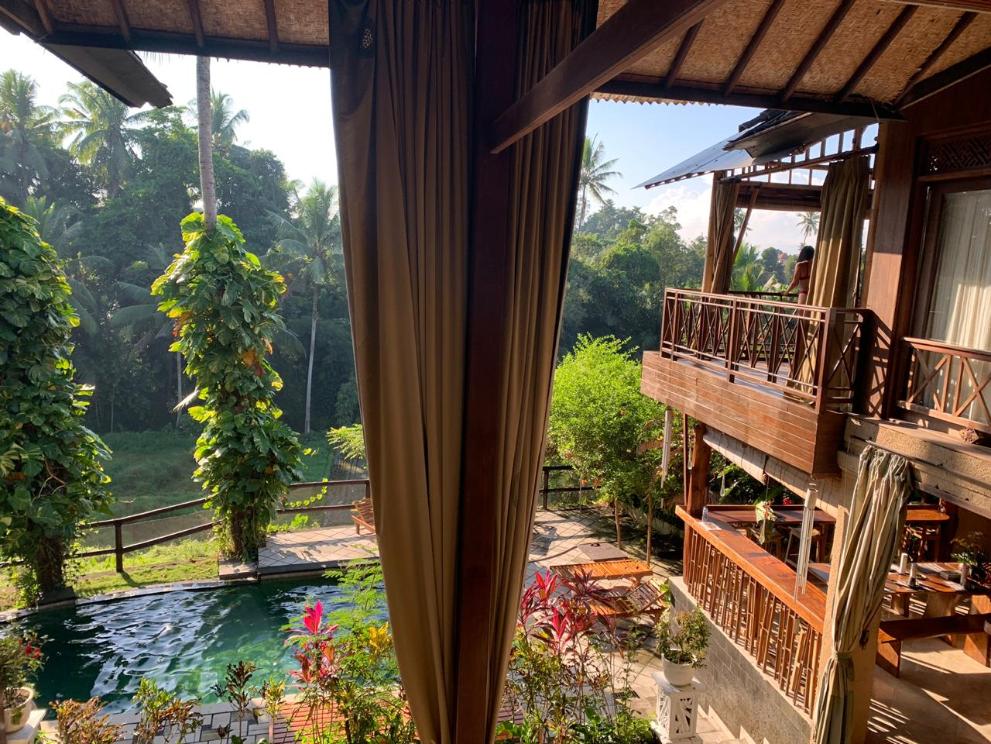 There are 8 bedrooms which can comfortably accommodate 16-18 guests at double occupancy.
Villa Gaia is rented as a whole for your event and not per room or per person - offering complete exclusivity for you and your guests.
We have two kitchens, staff and superb amenities. Twelve large lounge chairs surround our pool, perched at the edge of the rice fields to watch the sunrise and sunsets of Bali with the occasional farmer and his lovely row of ducks. The large open entrance area on the ground floor can fit up to 60 people for lectures and 30 people for yoga or workshops. There is a projection TV to support your video demonstrations.
Gaia Retreat Center offers students and teachers the perfect environment; a private and natural setting surrounded by acres of rice terraces and swaying palm trees due to a therapeutic knock-out breeze allowing you to pursue a mindful, health-conscious lifestyle in peace and solitude. We specialize in plant-based cuisine with all ingredients sourced locally and we can cater to non vegetarian eaters as well as clients with specific dietary needs.
Breakfast is inclusive at no extra charge while lunch and dinner are optional at additional cost. We cater to all requirements and preferences from raw, plant based dishes to vegetarian and non-vegetarian options. Our local chefs are highly trained in satisfying every dietary need and cater to all tastes.
INCLUDED IN THE VILLA RENTAL:
Access to the entire property (8 rooms sleeping 16 - 18 people)
Daily Complimentary Breakfast Buffet
Welcome flower mandala arrangement
All natural soap & shampoo and made locally in Bali
Daily maid service and 24 hour security and free Wifi
Unlimited supply of drinking water, tea selection + Balinese coffee
Private chlorine-free swimming pool, far infrared sauna, hot tub jacuzzi
A car & private driver to explore sites

outside

of Ubud area is available at $40 a day, petrol is extra. If within Ubud and under 20 minutes distance, transfers are complimentary for guests in a group transfer format.

1x Complimentary 1hr full body Balinese massage for each retreat leader

Discounted full body Balinese massage at $15 usd per hour

Discounted colonics at $50 usd per hour

Airport / Hotel pick up & drop off (4 cars each way) - extra charge of $30 usd per additional car.
Complimentary Return / 2 Way Transfer service includes pick up + drop off from Point A (Airport/Hotel) to Point B (Villa Gaia) - only.


Option to select 1 complimentary choices from the 4 below:
Tegenungan Waterfall | around 20 minutes away.
Tirta Empul Holy Water Spring Cleanse Temple | around 40 minutes away.
Historical Temples & Meditation Chambers of Gunung Kawi | around 40 minutes away.
Kecak Fire & Trance Dance

| around 5 minutes away.
Terms & Conditions:
Please note as we receive many inquiries and requests for reservations, all bookings are on a first come first serve basis.
Bookings are only confirmed when a downpayment is received.
A 1-3 part payment plan is worked out when booking Gaia Retreat Center.
We suggest covering all meals, massages, other expenses factored for your guests on your final downpayment. If you decide to pay these expenses on arrival, then please note we accept

CASH ONLY

in major currencies.
Payment must arrive in the bank anytime before payment due date which will be highlighted in your invoice.
An additional 40$ USD is required to be added ontop of each transfer to cover international bank transfer / beneficiary sender fees.
Any missing amount will be highlighted on your invoice-receipt to be settled in cash upon check in at Gaia Retreat Center.
Invoice is valid for 7 days from date of issue
The booking is then released after 7 days for other inquiries, if payment hasn't been arranged.
Temporary Work Permit
A temporary work permit at Gaia Retreat Center gives you peace of mind for the duration of your retreat. The work permit fee is mandatory and will be added to your invoice.
Cancellation or Postponing as a Group Retreat Leader / Facilitator
-No refunds or reimbursements are made under any life circumstances or emergency situations or force majeure when cancelling your retreat.
-If a retreat leader decides to postpone their own retreat, it must be given in writing by email and Gaia Retreat Center will then offer options as per the postponement fee highlighted on our terms and conditions page.
-Click HERE to read thoroughly on postponement fees and force majeure incidents.
LOTUS 1 & LOTUS 2

The Lotus Suites are two private rooms with their own entrance, semi-attached to one another within the same premise of Villa Gaia facing the garden. They each have their own indoor ensuite private bathroom with a standing shower. The beds can be separated (2 single beds) or pushed together to make a double bed as featured.
BAMBOO ROOM

The Bamboo Suite is a lovely cosy room with a double bed and an option for two twin beds. It has a large wardrobe area and private bathroom that leads to an outside open sky shower.
GARDEN SUITE

The Garden Suite is an individual cottage that is designed to provide privacy and elegance, while being cozy and warm. The room has a garden view with two twins beds which can be pushed together to make one double bed. It has a private bathroom with a large open air sky bathtub.
FOUR SEASONS

The Four Seasons Suite has a double bed and an option for two twin beds. The room includes a large spacious sunny dressing room, and a bathroom with a bathtub + private indoor as well as standing outdoor shower.
TERRACE SUITE

The Terrace Suite on the second floor includes an outdoor patio . It has a double bed and an option for two twin beds with a balcony overlooking breathtaking panoramic views of rice paddies.
TERRACE GARDEN -
FACILITATOR'S ROOM RECOMMENDATION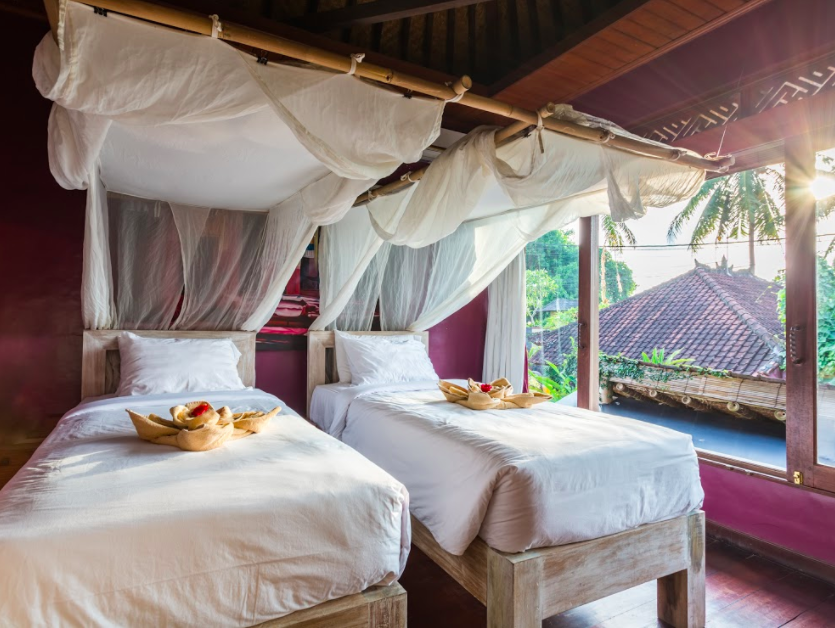 We recommend this room for the retreat leader / facilitator.
The Terrace Garden on the second floorhas 2 beds (and can be turned into 1 double bed). It is the only room at Villa Gaia which doesn't have a private bathroom however, you may use Terrace Suite bathroom in the private corridor next to your room. Alternatively, the public bathroom by the swimming pool which also has a shower. You are all set!
SUPERIOR MASTER BEDROOM

This spacious Master Bedroom on the second floor includes a large balcony, full dressing room section, bathroom with an outdoor standing shower and an indoor bathtub as well as 2 sinks. It can take up to 4 pax (4 single beds) or 2 double beds .
-- CLICK -
HERE
- TO VIEW MORE PHOTOS OF EACH ROOM --
Gaia Retreat Center has two kitchens; one in the main living area to meet all participants needs, which opens up for retreats and delivers a cosy ambience by the swimming pool. Meals are setup in a buffet style here for breakfast, lunch and dinner. The second private kitchen is where all the love goes into the chefs' cooking process and preparation magic happens - ie. behind the scenes!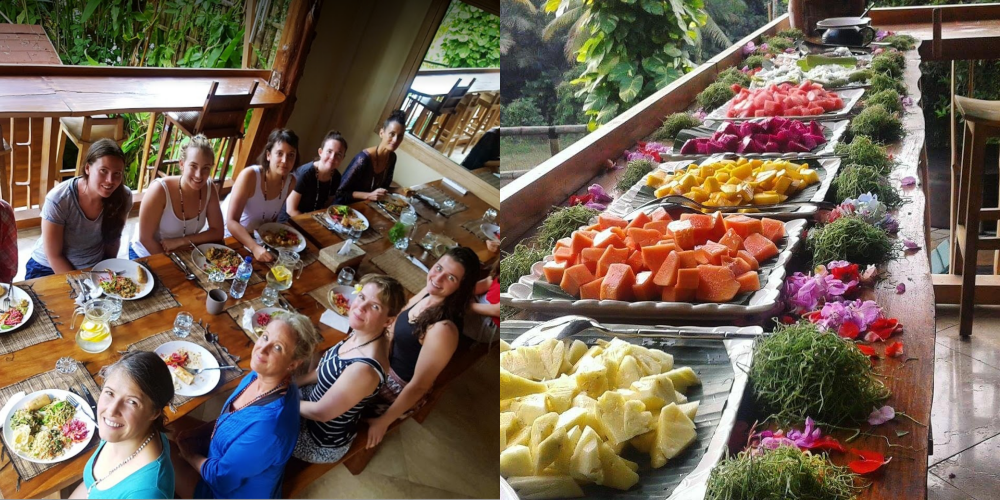 There are comfy sun loungers surrounding the pool, perched at the edge of the rice fields, a soft hot tub jacuzzi & far infrared sauna to melt away muscular tensions. Watch the sun rise in the morning or go for a refreshing night dip under the stars and if you are lucky - full moon!




Our massage room downstairs is where all our treatments happen. We can take 2 guests at the same time. The only treatment held off-site is colonic hydrotherapy at Gaia Holistic Clinic - around 12-15 minute drive away from Villa Gaia.

Yoga props (quality sturdy mats, foam blocks, bolsters, straps), stand up whiteboard - are all available on-site.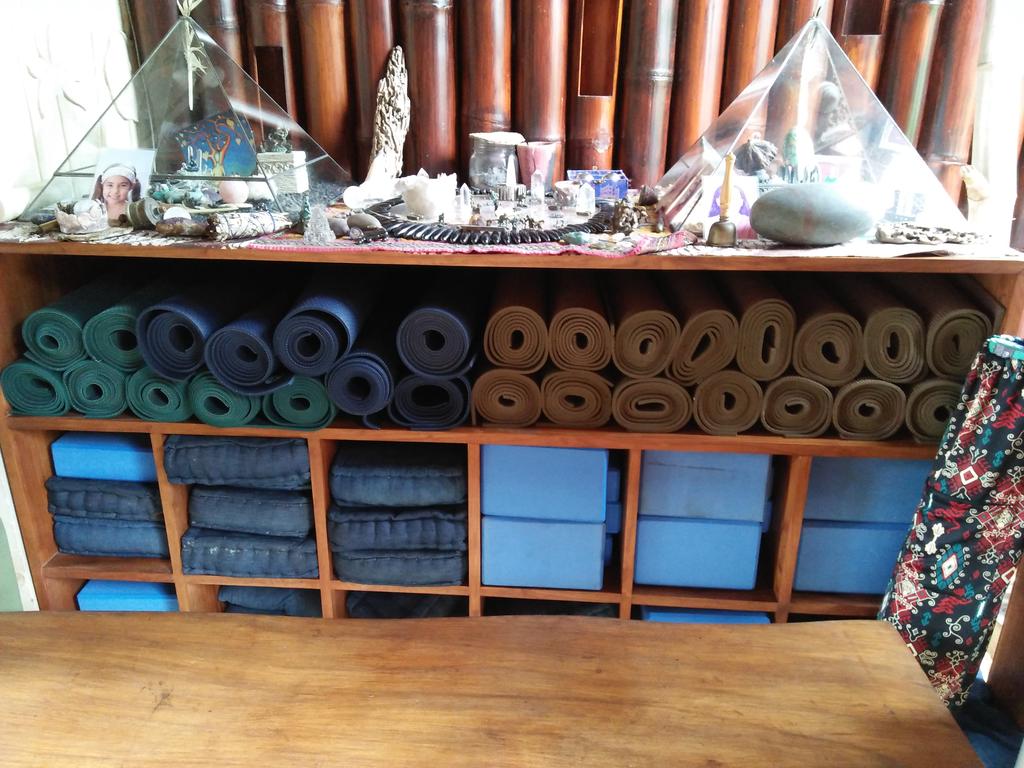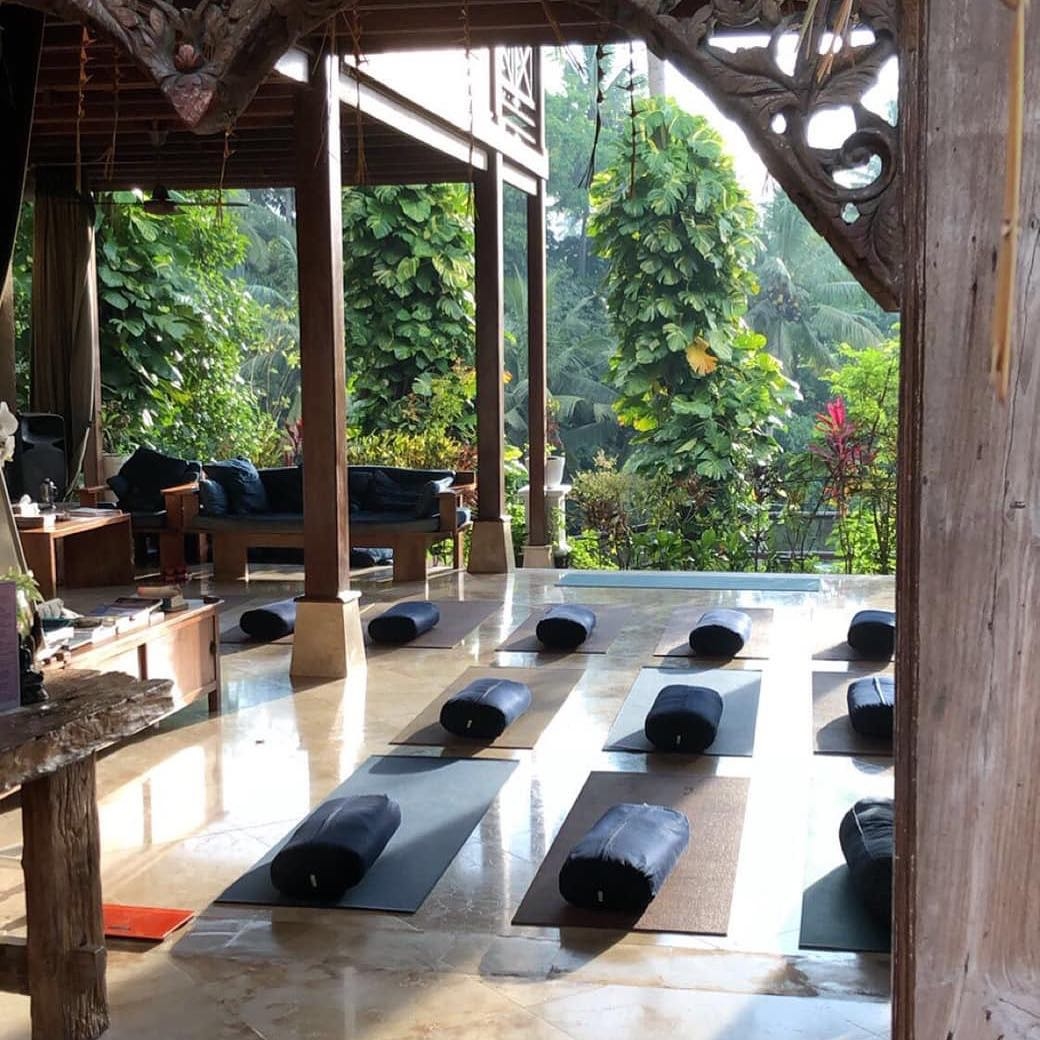 TESTIMONIALS & REFLECTIONS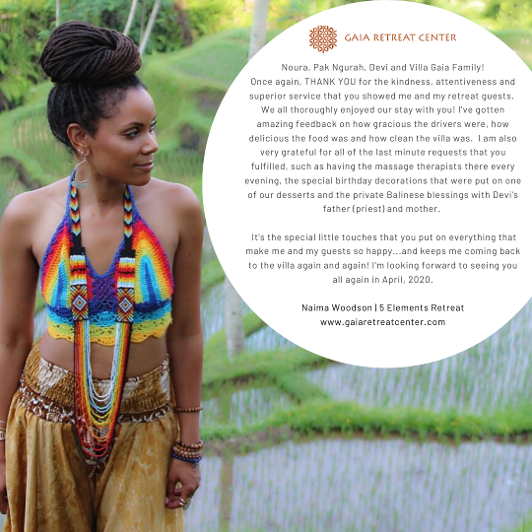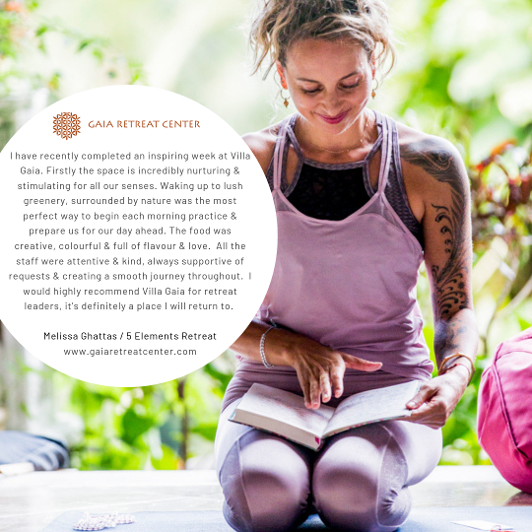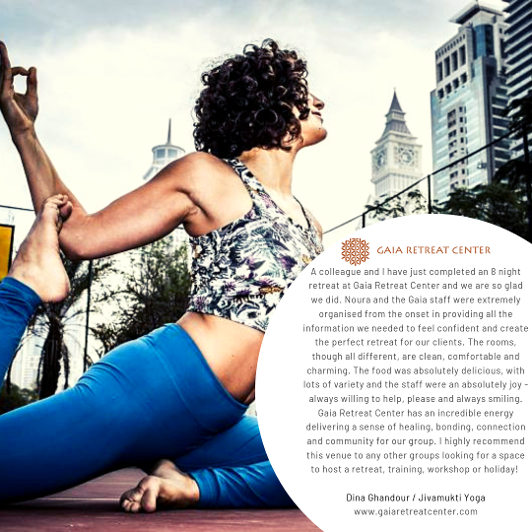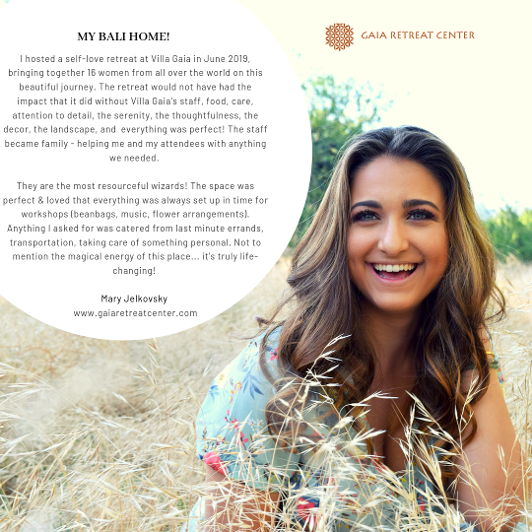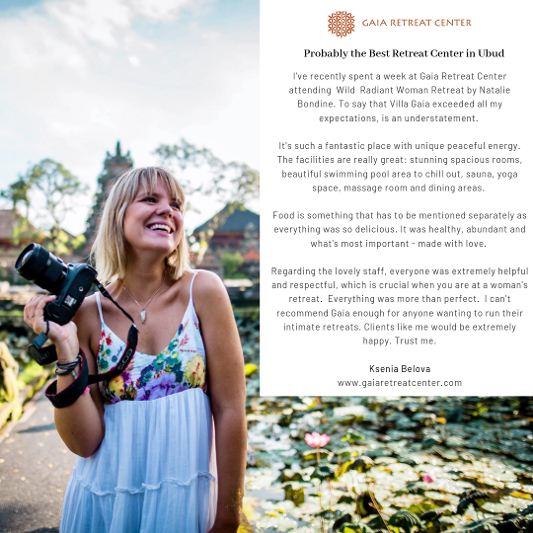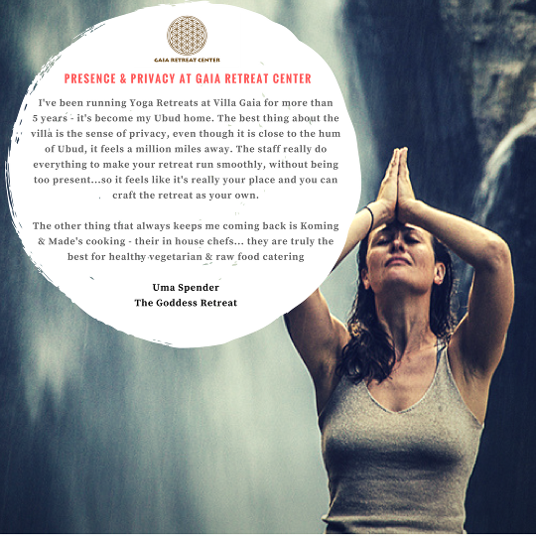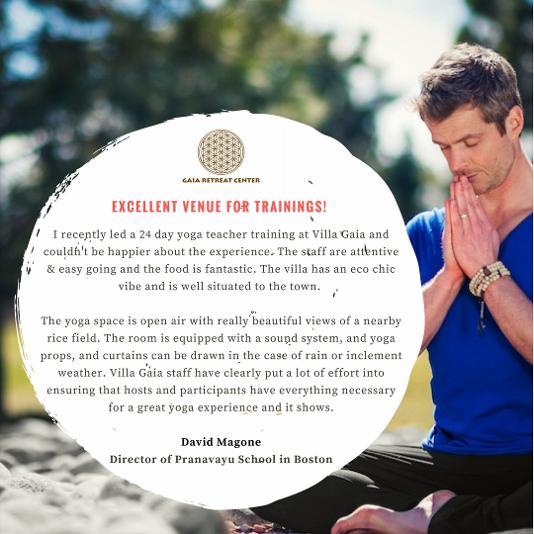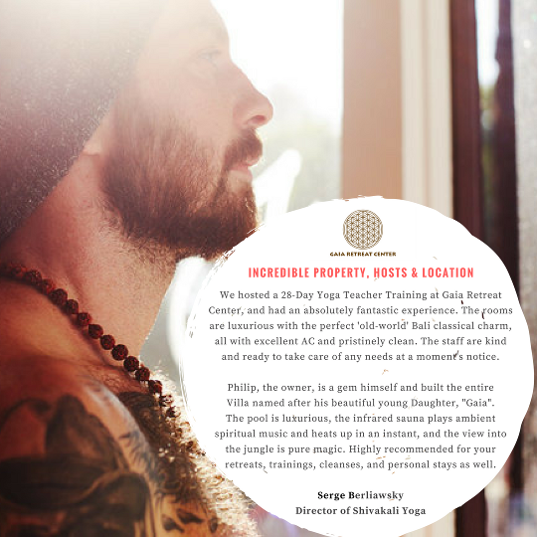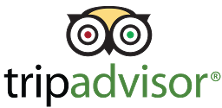 Copyright Gaia Retreat Center