Welcome to our Gallery of Past Retreats
at

Gaia Retreat Center, Ubud, Bali
Ubud,
We are honored to have been selected by
Phoenix Magazine as one of the top 5 eco hideaways in Bali!
Click <here> to read more
300HR SHIVAKALI ELEMENTAL TANTRA YOGA TEACHER TRAINING BY SERGE BERLIAWSKY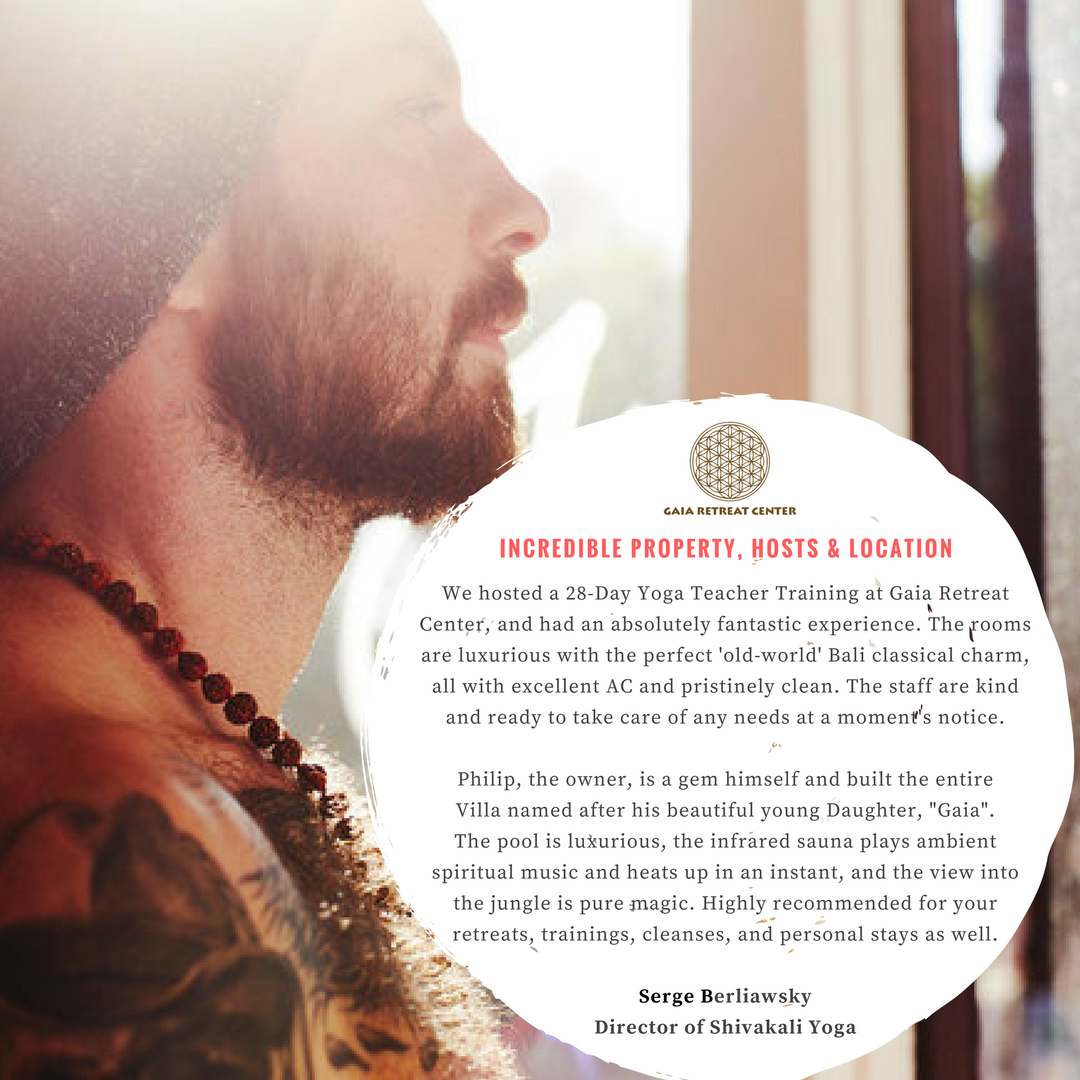 Serge Berliawsky has been practicing the Yogic arts of India & Tibet since his youth, and teaching Yoga for over 16 years. His approach evolves out of a deep transmission from younger years living in Kula (yogic community), engaging in lengthy daily practice before the hours of dawn, and undergoing rigorous study with his teachers. Serge blends his knowledge of traditional Yogic practice & philosophy with 1000's of hours of training in Ashtanga, Yin Yoga, Rudra Yoga, Vinyasa, Kundalini, Ayurveda and Tibetan Buddhism. He held a BA in Religious Studies with an emphasis on South-Asian traditions, a certificate in Yoga Philosophy, a diploma in the study of Yoga & Ayurveda, an E-RYT designation from the Yoga Alliance, he reads/writes Sanskrit, and is currently enrolled in a Ngakpa (Tibetan Yoga) Seminary program. Serge's training at Gaia Retreat Center was based in India's Sacred Traditions, with Alignment-Based Vinyasa Flow practice. Culminating in restorative postures, meditation and pranayama, his practice served first to awaken the body and break-up stuck energy, and then to soften the mind and nurture his participant's inner being through a grounding practice, restorative, yin and classical tantric asanas.
ICEMAN BATH CHALLENGE - THE WIM HOF METHOD BY BART BIERMANS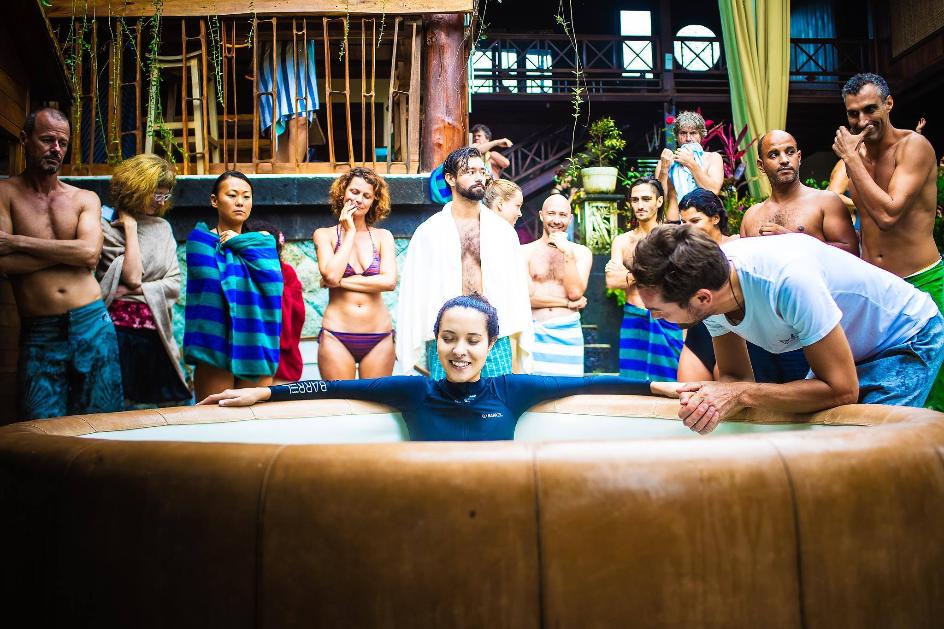 Similar to Tummo (inner heat) Meditation and Pranayama (yogic breathing). Yet it is something else entirely. While Wim has read a lot of books on yoga and meditation for many years, this technique primordially comes from what he terms 'cold hard nature'. By subjecting himself to the bitter conditions of nature, he learned to withstand the extreme forces of cold, heat and fear. Thanks to Ice Bath Challenge Certified Practitioner Bart Biermans for teaching our participants this empowering technique before plunging into the ice bath at Villa Gaia under his expertise!
INNER GODDESS HOLISTIC RETREAT BY NAIMA AND VERONICA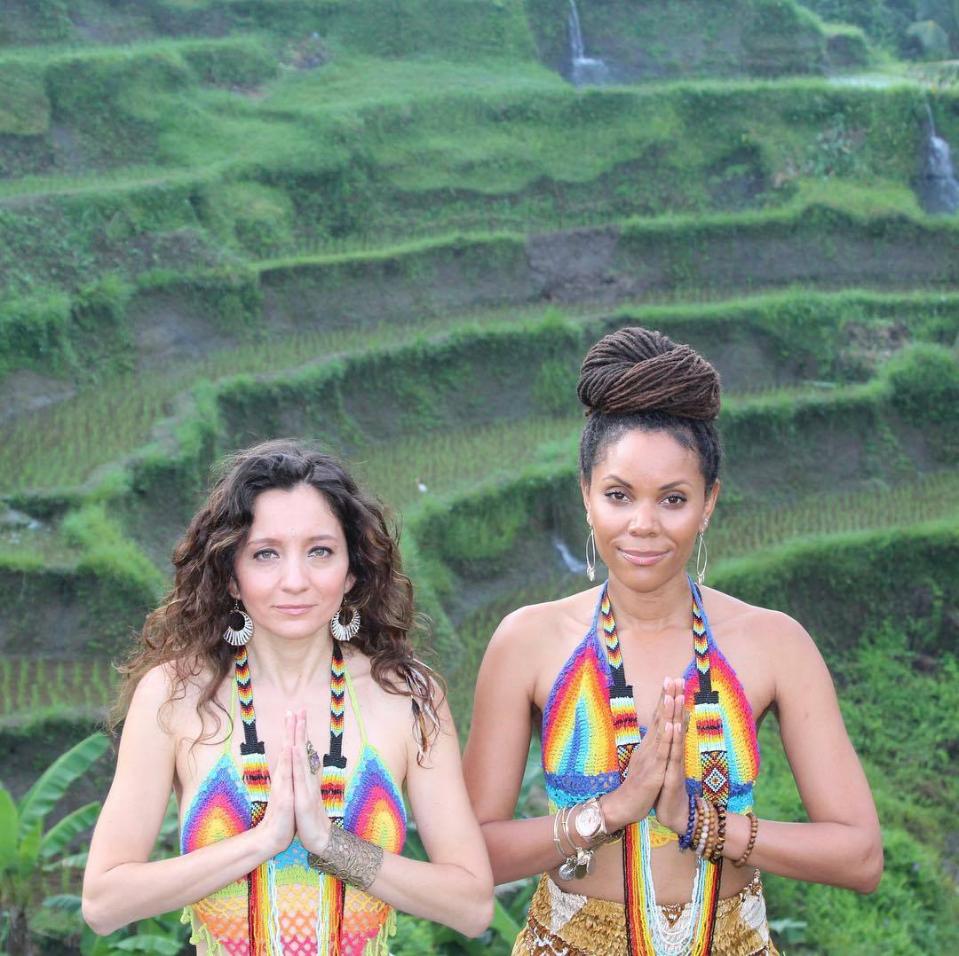 Diving into the true Goddesses, connecting to our inner radiance and beauty, removing ancestral blocks and limitations, loving ourselves deeply, planting our dreams and manifesting our sacred desires, tapping into universal abundance, living from a place of truth and authenticity, feeling our magnificence and honoring our path in deep gratefulness. The Inner Goddess Retreat explored all of the beauty that Bali has to offer, with beautiful and deeply healing ceremonies at a natural waterfall, a sacred water temple experience, a one-of-a-kind pyramidical sound healing temple visit, Balinese outdoor market shopping in Ubud and more. All organic farm to table meals and a massage will be all inclusive at Gaia Retreat Center, Ubud, Bali.
200HR PRANAVAYU VINYASA YOGA TEACHER TRAINING BY DAVID MAGONE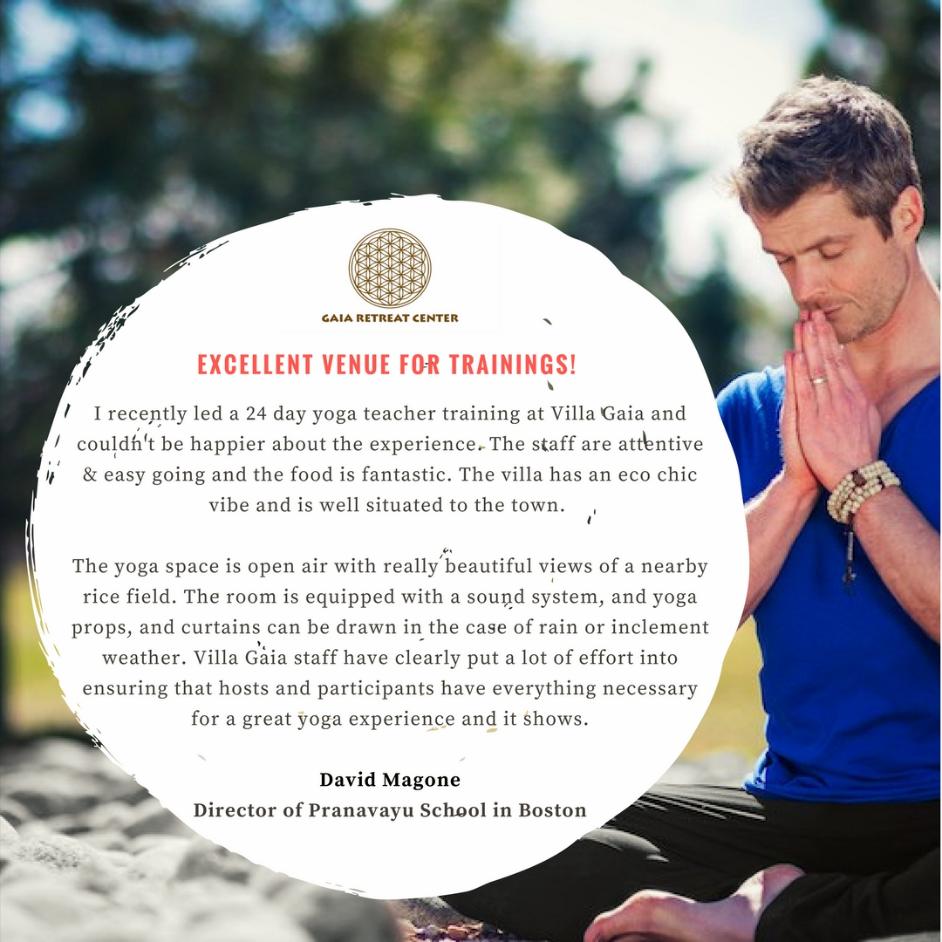 Yoga Alliance registered 200 hour vinyasa yoga teacher training program offered the opportunity for students to deepen their own practice, explore their voice, and gain valuable teaching experience in a beautiful and supportive environment at Gaia Retreat Center led by David Magone, founder of Pranavayu School in Boston, USA - a five star rating on Yoga Alliance, with graduates teaching at some of the world's top tier teaching venues around the globe including Equinox, Exhale Spa, national yoga festivals such as Wanderlust and the world's larges yoga website, Gaiam TV.
9 DAY INSIGHT WORKSHOP RETREAT BY MICHAL PASTERSKI OF LIFE ARCHITECT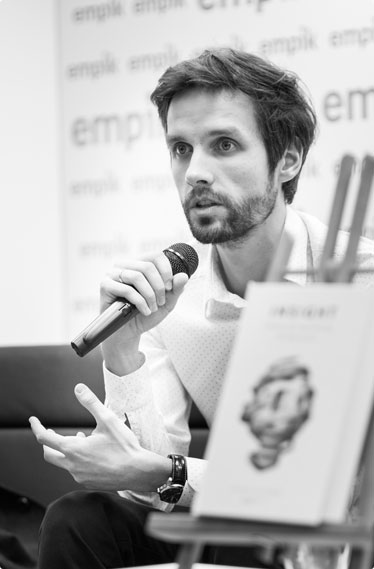 During those 9 days two certified life coaches from Poland, Michael Pasterski and Sandra Lasek, invited participants to practice techniques included in the Insight method; Road to Mental Maturity ~ learning new techniques and different approaches to working on oneself including: Zen Coaching. Gestalt therapy. Mindfulness. Transpersonal coaching. Behavioral-cognitive therapy. Zen meditation - allowing participants to learn a whole set of practical tools for systematic self-work.

7 DAY ASHTANGA YOGA IMMERSION BY IMAN EL SHERBINY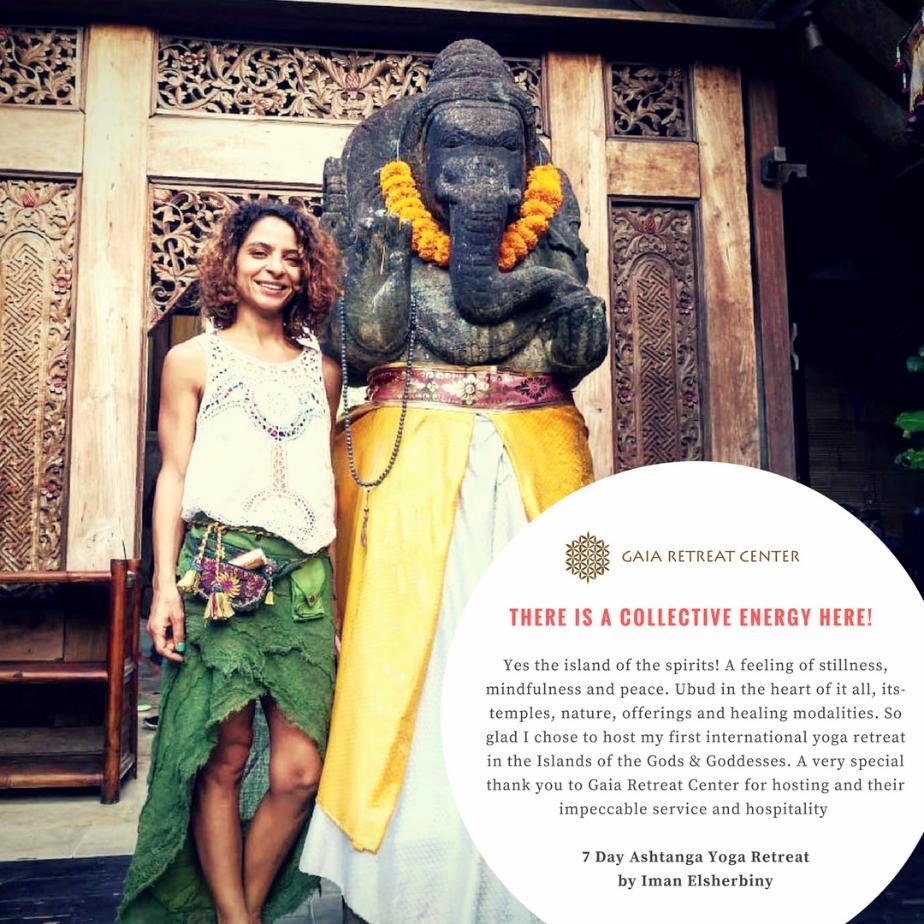 From India to Egypt to Bali, Ashtanga Yoga Egypt by Iman El-Sherbiny a KPJAYI authorised Ashtanga yoga teacher who has developed two Mysore programs in Cairo, invited a lovely group to reset and return to their deeper sense of self while immersing in the traditional 8 limbed path of yoga across 7 days at Gaia Retreat Center, Ubud, Bali. Here are some flashbacks of her retreat weaving in a strong, yet soft and playful practice to help her guests cultivate awareness with their body, a steady and clear mind and a healthy easy filled life.
NOURISH YOU SINGING RETREAT BY BETSY HANSON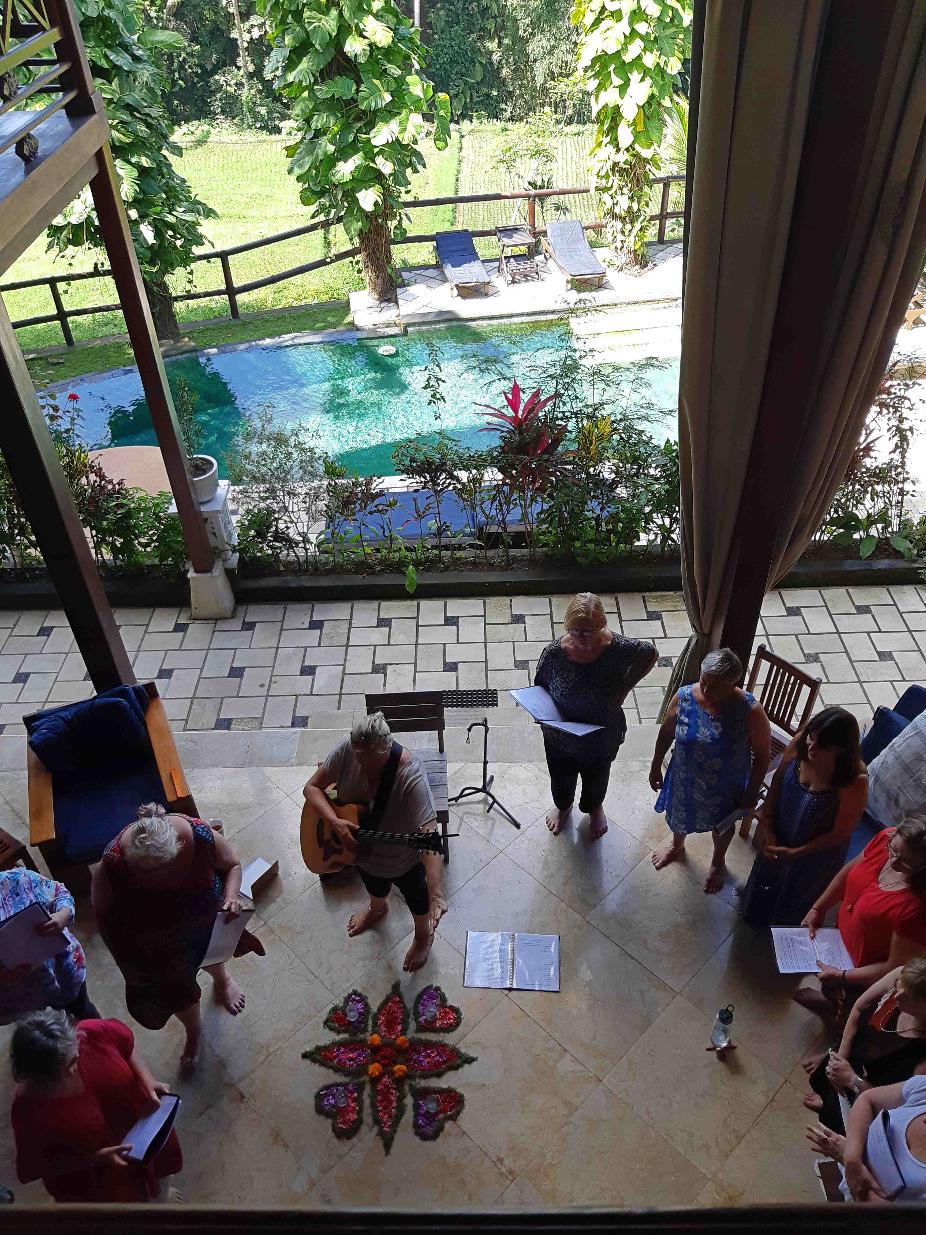 "Nourish You Singing Retreat" is a unique way to explore at a deeper level, our own voice and the stories we have around it. Within a supportive group environment we can shift, find and connect with a more authentic singing voice and experience the joy that comes in singing with others.
Over the last 20 years, Betsy Hanson has been creating choir arrangements by taking amazing songs and making them unique by creating a new version with 4 part harmonies and a range of different instruments or A cappella. Daily singing sessions with fabulous contemporary, world music and indigenous songs with gorgeous harmonies, exploring your voice, what it means to you to express yourself through singing as well as working together as a group to improve your skills and confidence - were topics covered along with thought-provoking discussions and honest, gentle conversations about authenticity, beauty, music, creativity, feeling good and learn a little more about how to ask ourselves better questions in order to move through life's sticky moments!
SOUL INSPIRED RETREAT BY MORGAN WEBERT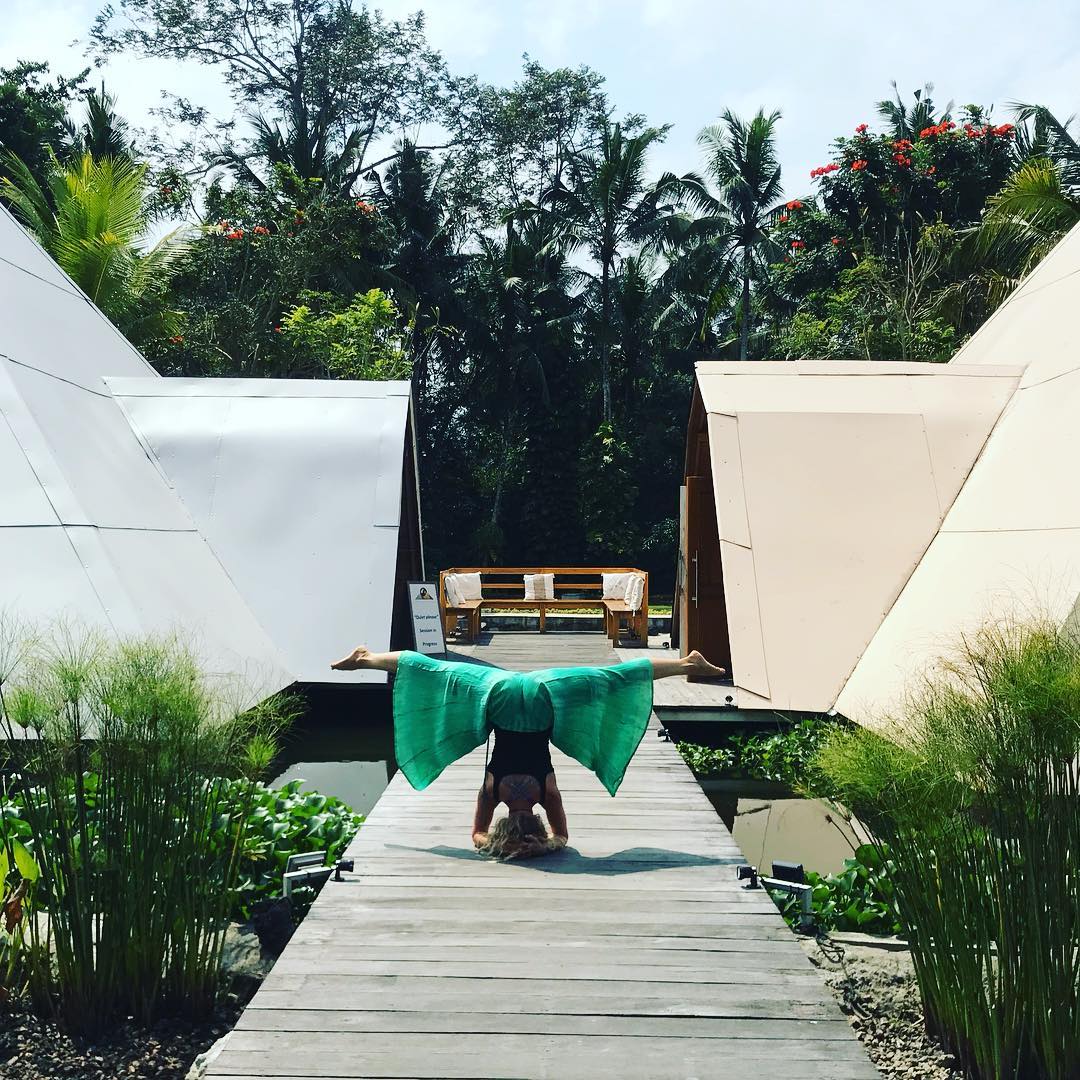 A week of inspiration & restoration in Bali with Morgan, Webert
Yoga Lifestyle Strategist Yoga | Meditation | Sound Healing | Soul Sessions | Ayurveda | Nature | Nutrition
-----------
Morgan loves leading retreats and watching the deep connections forged when practicing, exploring and diving deep together for a week. She's passionate about empowering people to break through limiting beliefs, negatives thought patterns and habits that harm and giving people practical tools to live an inspired and balanced life by running transformational Ayurvedic lifestyle programs for 5 years and working as a certified EFT Matrix Reimprinting counsellor for 4 years. She's trained with neuroscience meditation guru Dr. Joe Dispenza, habit science expert James Clear and Ayurvedic thought leader Cate Stillman as well as through the Kerala Ayurveda Academy. Over the past few years, she has led 8 retreats to Bali to take people on a magical, tropical journey that drops them into full life-force, letting go of stress and embracing the moment to create a life changing, unforgettable retreat. This year was being located at Gaia Retreat Center in Ubud, Bali.
"Our goal should be to live life in radical amazement. ....get up in the morning and look at the world in a way that takes nothing for granted. Everything is phenomenal; everything is incredible; never treat life casually. To be spiritual is to be amazed."- Abraham Joshua Heschel
Feeling this so strongly after such a deep heart opening week!" - Morgan Webert
INTUITIVE HEALING RETREAT BY KATIE O'MALLEY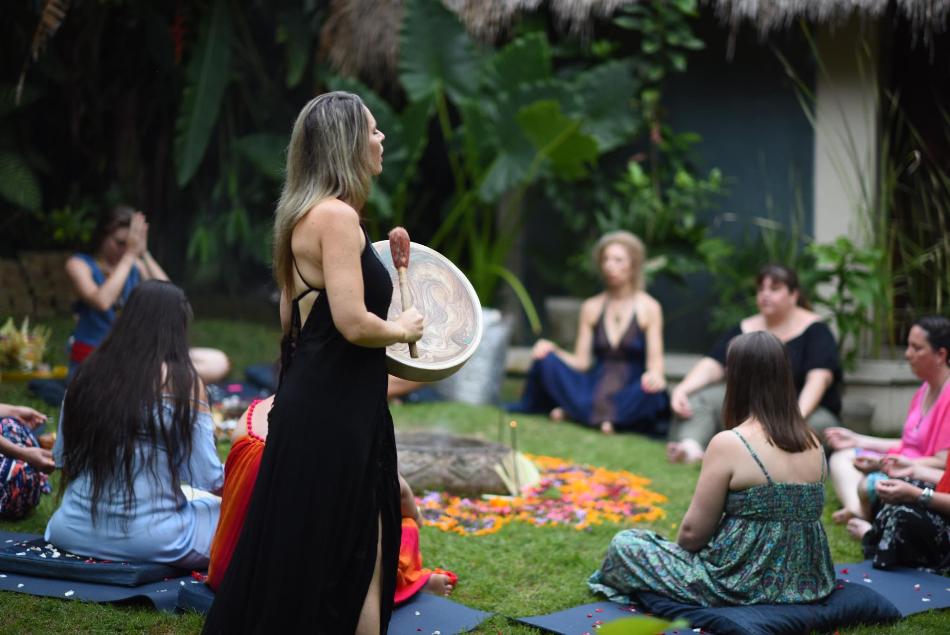 A group of amazing women gathered together on an embodied journey and intuitive teaching of the sacred, of the feminine. The Bali Intuitive Healing Retreat by Katie O'Malley who shared over 20 years' experience in the healing industry of embodiment, psychology, somatic therapy, healing, physiology, shamanism, breath work and mindfulness as part of learning the tools for healing oneself and others with a combination of different healing modalities.
Workshops were held daily during the retreat, along side daily meditation, yoga and rituals to align with the highest version of each guest.
Dakini Wisdom Writing, Meditation & Yoga Retreat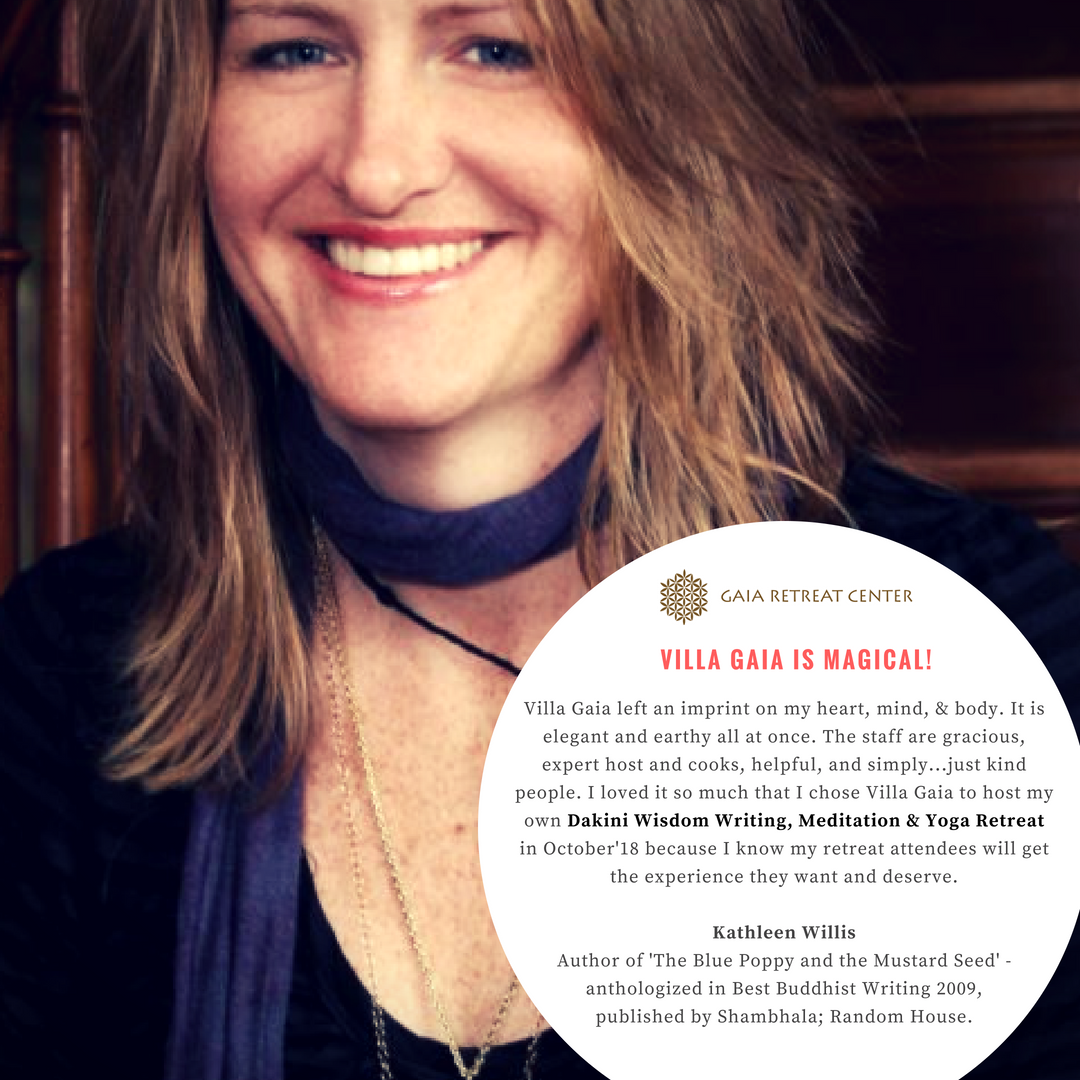 Kathleen Willis author of The Blue Poppy and the Mustard Seed: A Memoir of Loss and Hope, crafted a unique retreat geared to generating new work or refining existing manuscripts; finding your voice; honing your skills, and beginning or deepening a daily meditation and yoga practice. Kathleen Mary Willis holds a Master of Fine Arts in creative writing, and is the author of The Blue Poppy and the Mustard Seed, a Memoir of Loss and Hope. Her work was anthologized in Best Buddhist Writing 2009, published by Shambhala; Random House. She has been a manuscript consultant and instructor of creative writing for the U.S' leading writing center Grub St. in Boston for nearly 10 years. Kathleen also holds a Master of Divinity in theological studies. She has been a practicing Buddhist in the Tibetan Vajrayana tradition for thirty years. She is authorized by Lama Migmar Tseten of the Sakya Institute for Buddhist Studies to lead Green Tara and other Tibetan Buddhist meditation practices. She is also a Level II Reiki practitioner. Each morning began with an hour of Tibetan meditation by Kathleen and yoga by Meta Vashti followed by daily writing time with craft talk and writing prompts over healthy breakfast, rice field walks, adjourning to a local cafe and quiet time writing hours at Villa Gaia.
Copyright Gaia Retreat Center