BALI DETOX & YOGA RETREAT
If you really need to change your life and give yourself a gift of personal growth, our
Bali

D

etox and Yoga retreat programs are an excellent choice for you.
Our bodies naturally cleanse themselves through detoxifying our organs. However, our liver and gut suffer from the stresses of modern lifestyles that challenge, instead of support their functions. It's easier to continue running a stressful daily lifestyle than it is to step away to nourish ourselves. This is where our detox tailored program come in. Our friendly holistic team at Villa Gaia in Ubud, Bali, ensure you are engaging in a well-researched protocol to give your body the nutrients it needs to function properly and support your cleanse.
Detox, short for detoxification, is the body's natural, ongoing process of neutralizing or eliminating toxins from the body. Toxins are anything that can potentially harm body tissue, including waste products that result from normal cell activity, such as ammonia, lactic acid and homocysteine, and human-made toxins that we are exposed to in our environment, food, water and daily stress. Benefits of a cleanse, detoxifies your body from the inside out – at a complete metabolic and cellular level. Your blood becomes purified and your body is able to release toxins from the colon, kidneys, bladder, lungs, sinuses, and the skin clears out all of the unhealthy lifestyle habits or exposures you have had over time. When you give your digestive system "a break" your body has more energy to devote to releasing toxins.
No matter how healthy we are, the air we breath does have micro fibers of heavy metals that are toxic to our bodies. The more toxic your body is, the more difficult it is for you to lose weight or have better food and vitamin absorption. The human body is designed to rid itself of toxins, but it can become overwhelmed by the sheer volume of external toxins. Two natural fiber powder which we include in our detox and yoga retreat, support detoxification and help IBS (Irritable Bowel Syndrome) and a distressed digestive system alongside a shot of a powerful alkalizing agent, full of malic acid, aiding in skin issues to headaches.
During your free time, you will enjoy colonic sessions, lymphatic, abdominal, full body massages, body scrub, far infrared sauna, reflexology, daily invigorating yoga sessions and plenty of inward time to relax over a stack of books on health & wellness.

The idea is for you to love our detox programs, rehydrate, and reset your digestive and sleeping patterns to its optimal level as you leave Bali feeling fully energized again and most importantly, walk away learning how to continuously detox in life.

CHOOSE A DEEP OR LIGHT CLEANSE:
In the Deep Cleanse, you are on a liquid-only cleanse while on the retreat [juice fast & nutrient dense soups]. Your detox is intensified as energy that would normally go towards digesting and breaking down solid food is now used for healing and repairing on a cellular level. On this cleanse, you get all the nutrition you need while your body is detoxing itself at an accelerated level that supports the liver, gallbladder and kidney detoxification, especially from red & green juices which helps in the regulation of hormones, reduces toxic and inflammatory loads. The goal is to process toxins in your liver and eliminate them safely through other detoxification organs, such as the bowels, kidneys and skin.
In the Light Cleanse, you are on an all-living foods diet. This includes a combination of fresh juices, soups, delicious plant based meals & raw fresh salads, plus some nuts & seeds to nourish your body whilst giving it a chance to do some much needed internal cleansing. On this program, the rate of detoxification is slowed down. This is recommended especially if you are just coming off a standard heavy diet (fast foods, processed foods, lots of sugar and fat) and do not want to detox so quickly.
A breakfast buffet celebration on the final morning consists of coconut yogurt, chia pudding, toasted homemade granola, mixed fruit platter, coconut water and seasonal exotic fresh juices.
~
Planning on booking into our Detox & Yoga Retreat and curious in learning Transcendental Meditation (TM) at the same time?
You can now add TM sessions onto your 5-7-10 day detox retreat for a well rounded experience and walk with a new set of lifelong meditation skills.

Simply tick the check box in the submission form at the bottom of this page.


PLEASE NOTE THAT DETOX RETREAT IS ON HOLD AND WILL RESUME WHEN BALI'S INTERNATIONAL FLIGHTS REOPEN
*FORFREE VISA ON ARRIVAL VIA NGURAH RAI INTERNATIONAL AIRPORT*
SELECT YOUR PREFERRED NUMBER OF DAYS: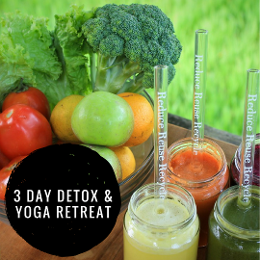 ROOM TYPE & RATES:

Standard Private: 900 USD
Standard Shared: 780 USD per person
Deluxe Private: 1,100 USD
Deluxe Shared: 950 USD per person

INCLUSIONS: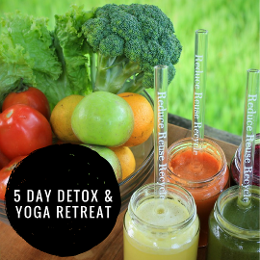 ROOM TYPE & RATES:

Standard Private: 1,400 USD
Standard Shared: 1,200 USD per person

Deluxe Private: 1,600 USD
Deluxe Shared: 1,350 USD per person


INCLUSIONS:
Return / 2-Way Transfer including pick up and drop off from Point A (Airport/Hotel) to Point B (Villa Gaia) only.


5 nights accommodation



5 days of red and green detox juices, jamu, coconut water, ginger lemongrass tea and heartwarming soup for dinner

Daily Morning Elixir, Detoxifying Natural Fiber drink and Ayurvedic 3 Herbal Fruits supplement to support the detox process.


3 colonic hydrotherapy sessions

Infrared sauna 2x a day for 15-30 minutes

3 sessions of 1 hour massage and 1 body scrub

2 sessions ginger kidney compress with amethyst biomat therapy

1 session of Abdominal massage

1 session of reflexology

1 session Natural facial

Antioxidant Jamu/Turmeric & Detox Juice ~ 45 minute demo with our chefs at Villa Gaia

Ubud Tour (Monkey Forest or Rice Terraces)

Gaia's Organic Gift Products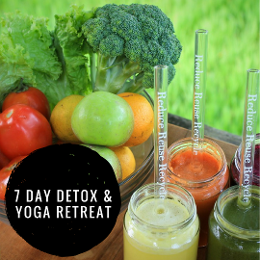 ROOM TYPE & RATES:

Standard Private: 2,100 USD
Standard Shared: 1,850 USD per person
Deluxe Private: 2,300 USD
Deluxe Shared: 1,950 USD per person

INCLUSIONS:
Gaia's Organic Gift Products

ROOM TYPE & RATES:

Standard Private: 2,700 USD
Standard Shared: 2,300 USD per person
Deluxe Private: 3,100 USD
Deluxe Shared: 2,600 USD per person

INCLUSIONS:
TERMS AND CONDITIONS
CHECK IN TIME: 2:00 PM
CHECK OUT TIME: 12:00 PM

IF YOU ARE BOOKING YOUR RETREAT WITHIN 6 MONTHS OF ARRIVAL TO BALI, FULL PAYMENT IS REQUIRED.
PAYMENT IS MADE VIA ONLINE BANK TRANSFER ONLY.

PLEASE CLICK - HERE - TO READ THE FULL TERMS & CONDITIONS POLICY WHICH COME TO EFFECT UPON BOOKING.
AN AMOUNT OF 40 USD FOR ONLINE BANK TRANSFER SENDER FEES APPLIES.
INVOICE ISSUED IS VALID FOR 3 DAYS FROM DATE OF BOOKING.

- - 15% TAX & SERVICE IS ADDED ON YOUR FINAL BILL - -

Rate includes complimentary Return / 2 WayTransfers including pick up + drop off from Point A (Airport/Hotel) to Point B (Villa Gaia) - only.

~
DISCLAIMER
Please consult your healthcare professional before participating in this program, particularly if you have existing medical conditions or concerns. Cleansing without fasting is beneficial for almost everyone. However, while juice fasting is a safe and healthy practice for the majority of people, we don't recommend it for those with critical heart conditions, diabetes, or chronic conditions such as cancer (especially those actively undergoing oncology treatments). Fasting is unsafe for pregnant or lactating women also.

Please note that we do not offer a specific, tailored program for every concern however we do alter the program for a deep / light cleanse and a consultation form to highlight any intolerances, allergies, preferences and recommendations by your doctor.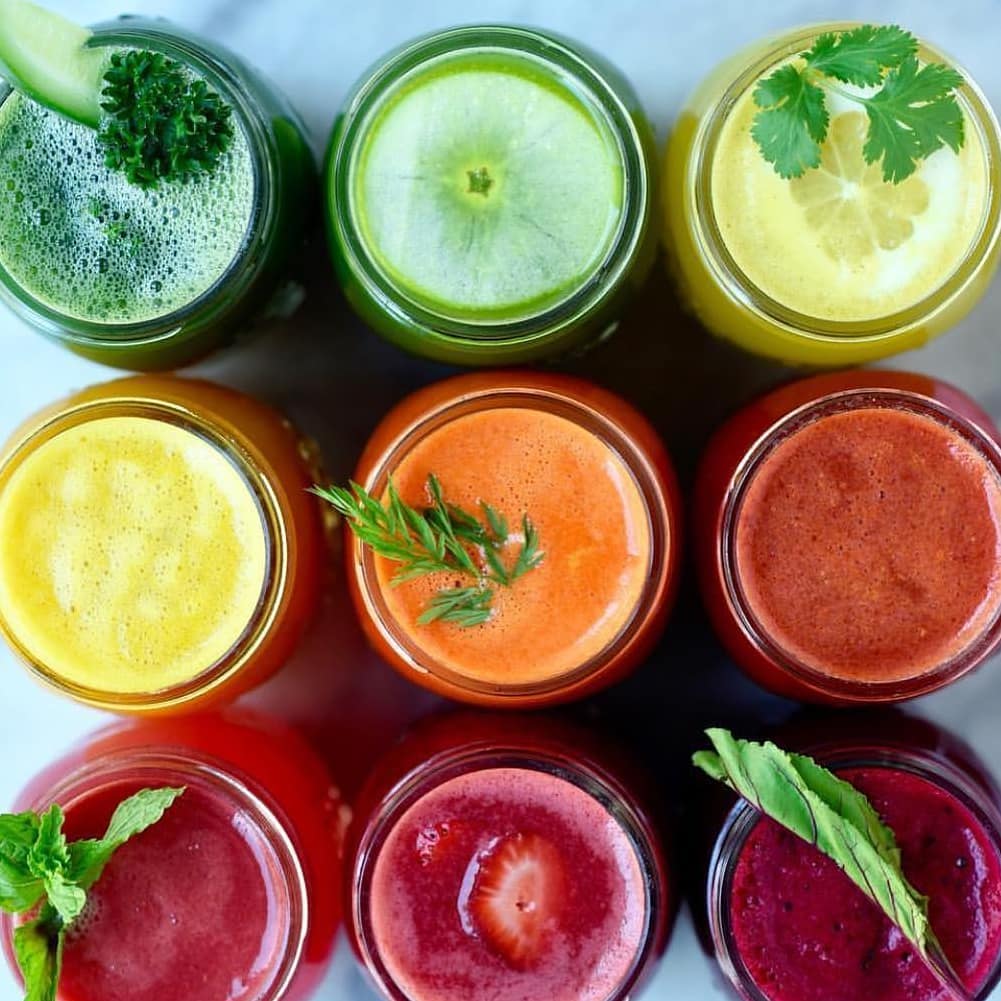 Important to know during your Detox Retreat

o Energy Levels: please bare in mind that during your detox you will be in a tropical climate and also not consuming solid foods. You may also find that your emotions are at times raw, you may experience mood changes, however after a few days most people report clarity of mind and calmness.


o Healing crisis/reaction: during a detox you may find your skin initially breaks out as toxins are released, or at times your body aches, you have low energy or headaches. Increase your water, be kind to yourself, rest and discuss with us how you are feeling. if you previously were a big consumer of caffeine headaches on day 2 or 3 can be strong as you withdraw.


o Liquids: Generally, even on juicing only, you do not get hungry but its imperative to stay hydrated drink min 3 liters of water daily as well as your two coconuts, and of course a glass of your juice every 2.5 to 3 hours.


o Weight Reduction: it is likely you will reduce weight unless you are optimum weight, during this time. It is common over 7 days to reduce 2-5 kg , depending on your original condition and weight, no. of colonics, and the speed your metabolism. Those of low weight or underweight, generally stay the same weight.
PRE CLEANSE DETOX INFORMATION:
To maximize the outcome of your detox journey and support your body, we suggest 5-7 days prior to your Detox retreat, to cut out the following from your diet:
o Meat: cut out red meat first i.e. pork, lamb, beef then chicken, fish OR if possible stop all meat 5-7 days prior to your retreat
o Dairy Products & Wheat
o Caffeine
o Reduce alcohol intake
o Reduce refined sugar intake
o Increase pure water intake to 8 large glasses minimum per day
By following the above guidelines you will find that your detox time with us will be more pleasant, with less side effects, allowing you to enjoy Bali, excursions and activities. We will also be sharing a pre detox comprehensive manual to you upon booking to enhance your experience and breakdown every treatment / service you will receive.

click on image below to read nikki's detox retreat review ~ published in yogi times bali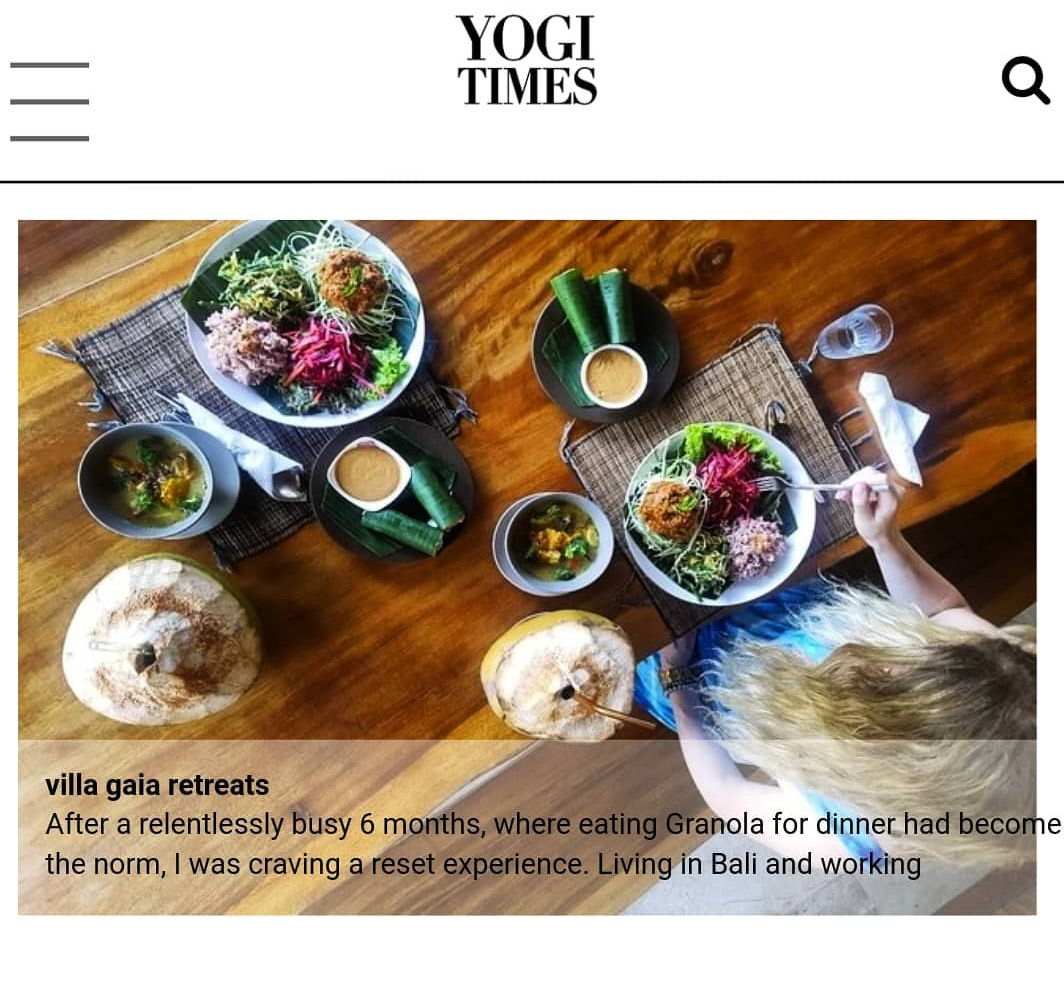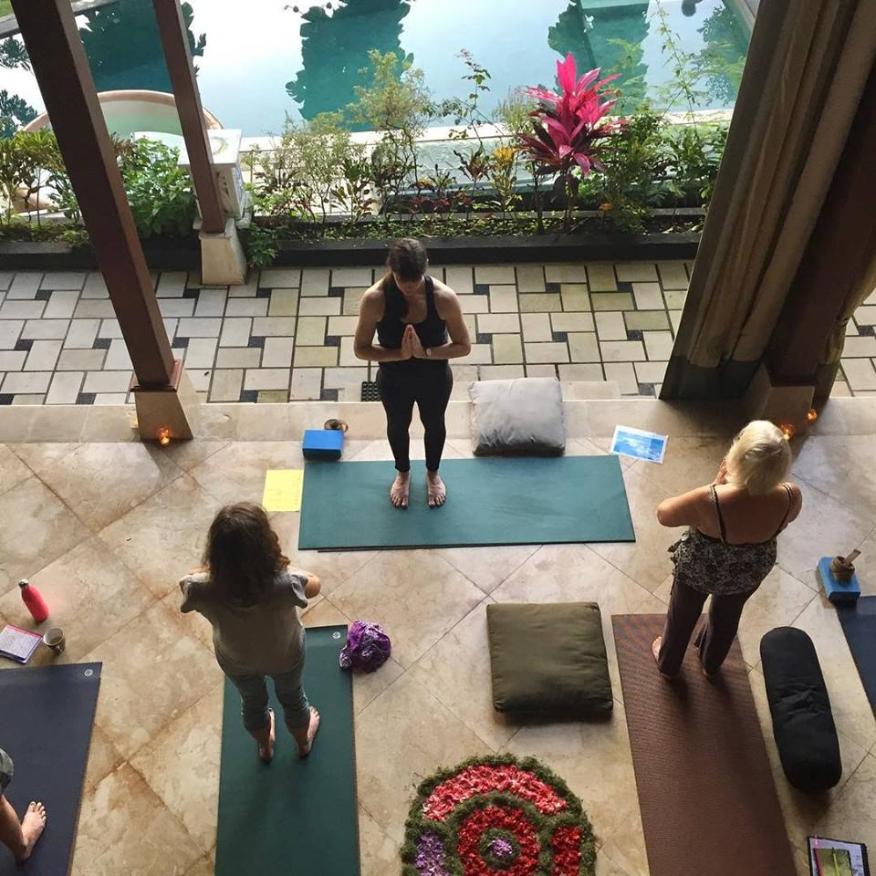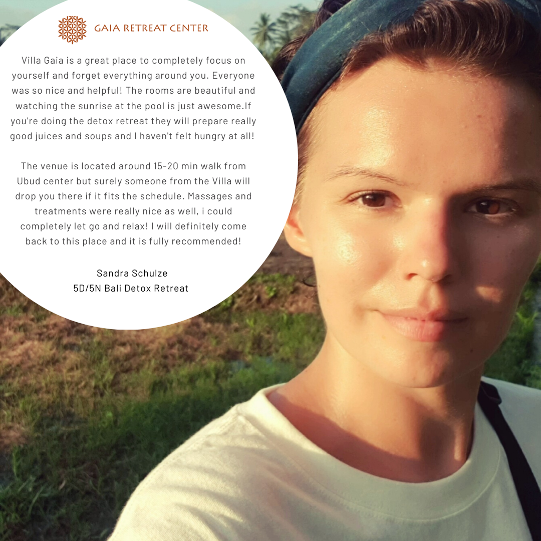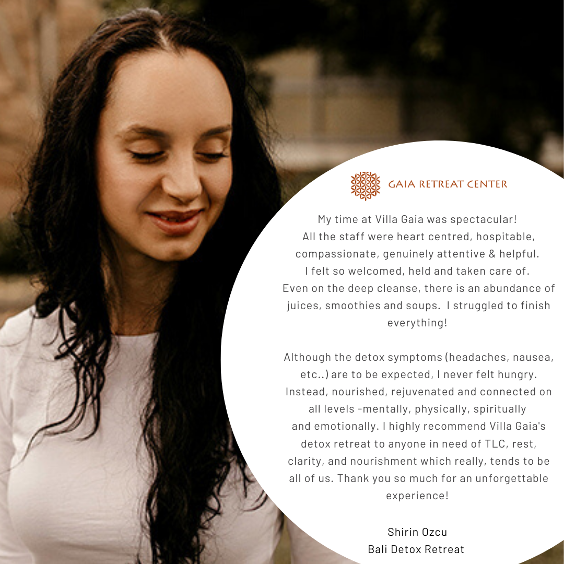 View more testimonials on our Youtube channel by clicking

here



"Master your body...
Master your mind...
and master your microbiome..."






YOU CAN ALSO REACH US VIA EMAIL:
gaiaretreatbali@gmail.com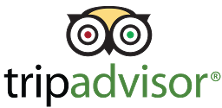 Copyright© Gaia Retreat Center